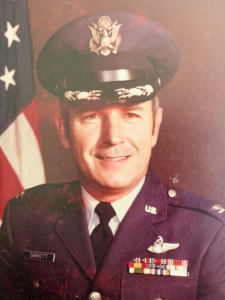 Marion Donald Garrett "Col USAF, Ret) "Headed West" July 22, 2020
The following is from son Donald Garrett: Marion Donald Garrett (Col USAF, Ret) my father, flew west during the night after a hard-fought battle with a sudden illness.
His career in the Air Force and Air National Guard lasted for 32 years and he flew Huns, Deuces, Thuds, Phantoms, and Vipers. Luke, Nellis, Hahn, Del Rio, NAS New Orleans, Dobbins, and Jacksonville were the places we called home.
After he retired, he went to work as an Aviation Safety Inspector for the FAA. I always thought that it was so he could see old friends on the flight deck and reminisce about the fighter days. He was a good guy and a shit hot fighter pilot.
My dad was my hero as I was growing up, and I wanted to be just like him. I was fortunate to follow in his footsteps. I would never be able to fill his boots. I love you, dad.
(More information to follow as it becomes available.)