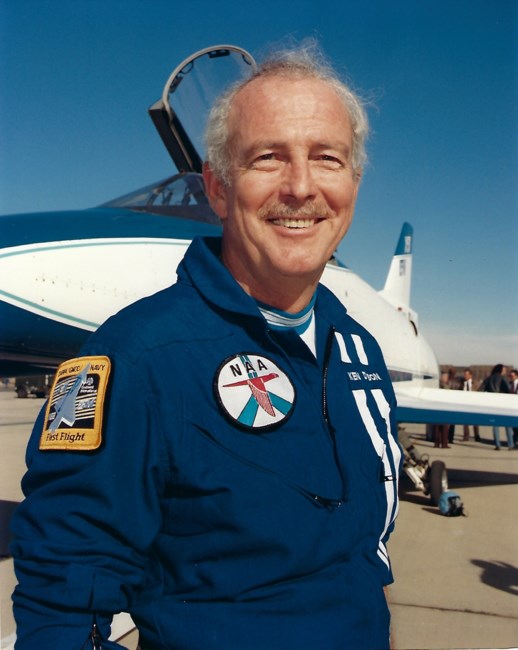 Norman "Ken" Dyson (LtCol, USAF) "Headed West" on August 15, 2019
The Society of Experimental Test Pilots… [and the Super Sabre Society] …was saddened to learn of the "Last Flight" of Lt Col Ken Dyson, USAF (Ret) (F) on 15 August 2019. He was 81 years old. Ken was born 13 February 1938 in Marshall, TX. After graduating from Texarkana Texas High School in 1956, he went on to earn a bachelor's degree in Aeronautical Engineering from Texas A&M in 1960 and then a master's degree in Aeronautical Engineering from the University of Alabama in 1971.
He graduated from the USAF Test Pilot School in 1966 and was later an instructor at the school. Ken was a pilot in the U.S. Air Force for 22 years, spending 5 years as a tactical fighter pilot and 15 years as a military test pilot. He flew weapons development test at Eglin AFB on the F-100, F-101B, and F-4 aircraft, and completed 2 combat tours in Southeast Asia flying the F-100 and F-4.
He served as a test pilot and CTF Director during the initial AFDT&E on the F-15, performing flying qualities, engine development, and all-weather tests during the initial AFDT&E program. He was the only Air Force pilot on two classified programs, where he participated in all flight test areas.
After retiring from the Air Force he joined Rockwell International as an engineering test pilot for eight years and flew throughout the B-1B program. He flew the first flight X-31 Post Stall Aircraft and through its early testing. He flew the first flight X-31 Post Stall Aircraft and through its early testing. He retired from Rockwell as Chief Test Pilot and Director of Flight Test in 1993.
Ken received the Iven C. Kincheloe Award in 1989 (retroactive to 1979) for his work on the HAVE BLUE program, the proof of concept aircraft which led to the F-117. He received the Kincheloe Award again in 1996 (retroactive to 1982) for his work on the TACIT BLUE program. Ken is the only pilot to have flown both aircraft that are largely credited with giving birth to and validating the idea of stealth aircraft that could leave many radars blind to their presence.
Ken also received the Legion of Merit, two Distinguished Flying Crosses, nine air medals, was an Engineering Fellow of the University of Alabama, Distinguished Alumnus of the USAF Test Pilot School, was inducted into the Lancaster Aerospace Walk of Honor in 1997 and included in Aviation Week & Space Technology's Aerospace Laurels.
Ken was a member of the Super Sabre Society since 2014 and had joined SETP in 1975, was upgraded to Fellow in 1990, and served as a SETP President in 1993. Ken is survived by his wife, Nina and children, Clay, Fred, and Beth.
Fond memories and expressions of sympathy may be shared at www.eternalvalleymortuary.com for the Dyson family.
Source: https://obits.nwfdailynews.com/obituaries/nwfdailynews/obituary.aspx?n=charles-harry-martin&pid=196464480&fhid=6138