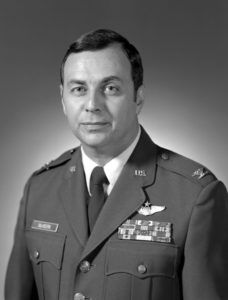 Col. Louis Anthony Silvestri, Jr., USAF (Ret.) "Headed West" July 21, 2019
Montgomery – Col. Louis Anthony Silvestri, Jr., USAF (Ret.) age 80, passed away Sunday, July 21, 2019. He was born July 25, 1938, in the Brooklyn borough of New York City to Louis Anthony Silvestri and Elizabeth Savino Silvestri.
Lou is preceded in death by his father and mother and one sister, Betty Lou Silvestri Tomaselli. He is survived by his wife, Dr. Anita M. Hardin Silvestri; son Tony Silvestri (Robin), granddaughter Kelsey Silvestri and step-granddaughter Aimee Atkins; son Col. Paul Silvestri, USAF(Ret.) (Lise), children Jake, Shannon, Marly, Bret and Will Silvestri and great-grandson Coleman Spaulding; daughter Pamela Silvestri Streton (Scott) and grandsons Justin and Aaron Streton; stepson, John Hardin (Heather) and step-granddaughters Katherine, Claire, and Lovie Hardin; sister Joanne Silvestri Ramirez (Manny) He is also survived by two nephews, five nieces and several cousins.
He was a member of the F-100 Super Sabre Society, the Daedalians, was an Air and Space Friend, and is inscribed on the Wall of Honor at the Smithsonian National Air and Space Museum's Steven F. Udvar-Hazy Center. He graduated from Brooklyn Technical High School with an Engineering Diploma; attended Hofstra University; received his BS Degree in Aerospace Studies from Embry Riddle-Daytona Beach; and received his MA Degree in Management from Webster College. He served in the USAF from 1959 to 1985, serving as Aviation Cadet; Navigator KC-97 and KC-135; Pilot B-52; Pilot F-100, T-38 Instructor Pilot; Squadron Commander T-37 GAF; Air Training Command I.G.; and retired as Base Commander (Columbus AFB, MS). He was awarded the Legion of Merit, a bronze star, 2 bronze air medals, a silver air medal and a variety of other citations and medals during his two tours in Vietnam.
He was a member of Aldersgate United Methodist Church and the Wesley Sunday School Class. He enjoyed photography, reading, and high school, college, and pro sports. He was a Master Gardener, along with his wife, Anita, and enjoyed working outside.
Services will be held on Sunday, July 28, 2019, at Aldersgate United Methodist Church in Montgomery, Alabama. Visitation will begin at 2:00 P.M. in the church parlor, followed by a memorial service at 3:00 P.M. in the chapel, followed by inurnment in the Columbarium of Aldersgate United Methodist Church.
The family requests that in lieu of flowers, memorials may be made to Aldersgate United Methodist Church in Montgomery.
Published in the Montgomery Advertiser on July 25, 2019