Peter Bouse Cascio (Col USAF, Ret) "Headed West" on December 18, 2020.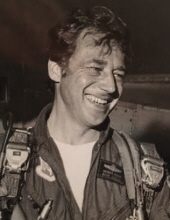 Col. Cascio, 89, was born September 23, 1931, in Hartford, CT, current resident of Virginia Beach, VA and former resident of Asbury Methodist Village, Gaithersburg, MD, passed away December 18, 2020.
Predeceased by parents Helen Veselak Cascio and Peter Joseph Cascio of West Hartford, CT.
Peter grew up in West Hartford, CT. After graduating from The Loomis School in Windsor, CT attended Middlebury College, class of 1953 earning a Bachelor of Business Economics degree. That fall entered Harvard Graduate School of Design as a candidate for a Master's degree in Landscape Architecture. That next fall joined the Air National Guard and entered the USAF pilot training program. After graduation in 1956 joined TWA as a First Officer for a year.
With the advent of the Boeing 707 replacement of the Lockheed Constellation all junior First Officers were furloughed. He returned to Harvard for his second year of the MLA program. That spring he joined his father at the Peter Cascio Nursery for a 20 year career.
After completion of 4 years as Commander of the 118th Tactical Fighter Squadron, CTANG, in 1978 he and family moved to Alabama for a year to attend the USAF Air War College, also earning an MBA degree from Auburn. In 1981 he was selected as Air National Guard Advisor to the Director of Air Force Plans moving the family to Arlington, VA for five years at the Pentagon. Peter retired as a Colonel with over 32 years in the Air Force: Active, Guard and Reserve in 1986. His final retirement was in 2008 after 21 years with the Army Corps of Engineers in Military Programs at Fort Belvoir, VA.
Peter was predeceased by his wife Barbara Ellis and their son Harlan and survived by his daughter Dr. Anna Kate Cascio and her daughters Zelia Kita and Annika Tenzin. Also surviving are brothers A. Lucian Cascio of North Granby, CT and Joseph A. Cascio of Round Hill, VA and sister Joan Griswold of Granby, CT and their many offspring including great grandnephews Toshiaki and Tiau Azuma of Tokyo.
In lieu of flowers, please contribute to the Alter Guild, Asbury Methodist Village 201 Russell Ave., Gaithersburg, MD 20877
Internment with honors will be with wife Barbara at the Columbarium in Arlington National Cemetery at a later date. Condolences may be offered to the family at www.hollomon-brown.com.