"Robert Coventry "Bob" Eybers, 92, of Sioux City passed away Tuesday, March 14, 2023, at Sunrise Retirement Home.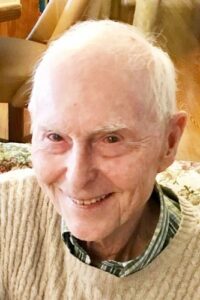 Bob was born Feb. 21, 1931, in Sioux City, the son of Carl and Elizabeth "Betty" Eybers. He graduated from East High School and Morningside College. Bob served in the United States Air Force and was stationed stateside during the Korean War, serving as an aircraft mechanic. Bob was a member of the 185th Air National Guard and attended Pilot Training in Texas. He obtained the rank of Major and was deployed to Vietnam with his unit. He loved flying.
Bob married Donna R. Davis in Sioux City on Jan. 11, 1953. The couple recently celebrated their 70th wedding anniversary. Bob worked as a Painting Contractor, Eybers Paint Company, a subsidiary of Holtz Construction Company.
He was an Elder in the Reorganized Church of Jesus Christ of Latter-Day Saints.
He is survived by his wife of 70 years Donna Eybers; children Lori (Dale) Smith, Lance Carl (Julie) Eybers, and Linda (Mark) Schoff; eight grandchildren; and 10 great-grandchildren. He was preceded by his parents.
A Private Memorial Service will be held on Saturday at Sunrise Retirement Home. Arrangements are under the direction of Meyer Brothers Morningside Chapel.
In lieu of flowers, memorials may be directed to the Sioux City Gospel Mission."
Published by Sioux City Journal on Mar. 17, 2023.