Dick Pietro contacted the SSS on the loss of his friend, Russell Owen Gentry who "Headed West" on March 23, 2023.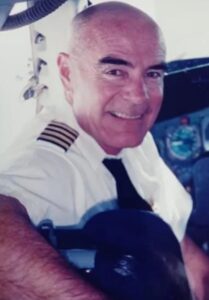 Russell Owen Gentry passed away peacefully on Thursday, March 23, 2023, surrounded by his wife, Mavis, and family.
"Russ" was born on Feb. 20, 1938, in San Antonio, Texas. He moved to Tulsa, Okla., at the age of 2, with his father, Jay L. Gentry (U.S. Army Air Corps), and his mother, Ethel E. Gentry (both deceased). It was also here his only sibling, Katherine, was born (also deceased), and was the place he discovered his passion for flying leading to a career in the U.S Air Force.
He flew many missions, including in Vietnam, earning the Distinguished Flying Cross, which he humbly accepted. Following nine years of military service, he joined Trans World Airlines and retired as Captain Russell Owen Gentry, flying the 747.
His retirement years were spent in Florida, and he finally settled in Pinehurst, with his wife, Mavis.
A private cremation has been held.
The family respectfully request no floral tributes, but if desired donations may be made to Parkinson Research online at APDA The American Parkinson Disease Research Association or by calling (800) 223-2732.
Online condolences may be made to www.bolesfuneralhome.com.