Ronald L. Barker Col USAF, Ret, from Tucson Arizona, Headed West on 17 April 2022.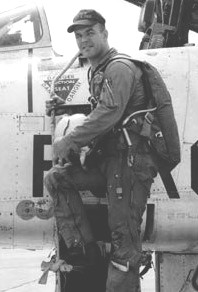 Ronald L. Barker (December 24, 1933-April 17, 2022)
A native of Lansing, Michigan, Colonel Barker received his commission through the Air Force ROTC program in 1956. His first assignments were as an F-100 pilot at Cannon AFB, NM, and Misawa AB, Japan. He later served as an Air Officer Commanding at the Air Force Academy. He served a combat tour in Vietnam from December 1965 to December 1966. During this tour, he served both as an F-100 pilot and as a Forward Air Controller with the Army's First Cavalry Division. He has over 250 combat missions and over 400 hours of combat flying time.
Following his SEA tour, Colonel Barker graduated from the Air Force Institute of Technology and was assigned to the Air Training Command Resident Office as a liaison officer to the Aeronautical Systems Division. His program responsibilities included F-15, B-1, and A-10 aircraft and all developmental life support systems and equipment. Next, he attended the United Kingdom Joint Services Staff College near London, England. Immediately following his school assignment, Barker transferred to RAF Upper Heyford where he began flying the F-111 as initial cadre in the 55th Tactical Fighter Squadron.
Early in 1974, he transferred to Korat RTAFB, Thailand, as the Wing Quality Control Officer. He was selected to become Operations Officer for the 429th Tactical Fighter Squadron "Black Falcons" and in January 1975, was selected to be the commander. The 429th TFS returned to Nellis AFB in June 1975.
His promotion to Colonel led to an assignment to the 86th Tactical Fighter Wing, Ramstein AB, Germany. In April 1978, Colonel Barker was named Commander of the 86th Combat Support Group. He remained Base Commander until March of 1970 when he returned to flying as Commander of the 86th Tactical Fighter Group, flying the F-4E.
In January of 1980, Barker left Germany for assignment to Ft. Leavenworth, KS as Commander of the Tactical Air Command Liaison Office.
He was assigned to Headquarters Pacific Air Forces (HQ PACAF) as the Director of Support Operations from May 31, 1983, until his retirement on May 31, 1986.
At his retirement, Colonel Barker was awarded the Legion of Merit for Exceptionally Meritorious Conduct in the performance of outstanding services.
Ron Barker is survived by his wife, Mary.
The funeral is to be held on 18 May 2022 at the National Memorial Center of Arizona, Phoenix, AZ.
Additional information will be posted as it becomes available.