Sterling James Moeller, Maj USAF, Ret, "Headed West" on March 25, 2022.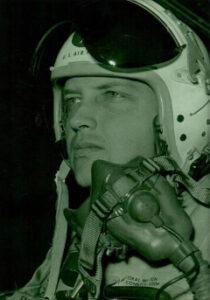 Sterling (Sam) was born on 13 January, 1931, in Meyersville, Texas to Julius and Mary Moeller.  At 91 years of age, he passed away on March 25, 2022.  As a young boy working in the fields of the family farm, Sterling would stare into the sky at the planes overhead and dream of being that pilot, soaring to the greatest heights and touching the hand of God.  In 1948, after graduating from Cuero High School in Cuero, Texas, he enlisted in the United States Air Force to carry out his dream.  He was given the nickname Sam because Sterling took too long to say.  He held the enlisted rank of Staff Sergeant until being commissioned as an officer and receiving his pilots' wings in August, 1953.
During his Air Force career, he was stationed at Perrin AFB in Denison, Texas, where he married and welcomed his first daughter.  Stationed at Yokota AFB in Japan he welcomed daughters two and three; at Chanute AFB in Rantoul, IL he welcomed daughter four; and finally at Cannon AFB in Clovis, NM he welcomed his only son.  Upon receiving a promotion from Captain to Major, Sterling was assigned to Da Nang AB in Vietnam as the Base Operations Officer.  When his tour of duty in Vietnam was complete, he was assigned back to Perrin AFB.
During his Air Force career, he was awarded the Bronze Star and Air Force Commendation Medals for meritorious service.  As a fighter pilot, he flew many planes including the T28, F86D and T33.  He was a member of the Mach Buster's Club, having exceeded the speed of sound in a USAF F-100 Super Sabre and holds a place on the National Air and Space Museum's Wall of Honor.
After retiring from the Air Force in July 1968, Sterling went on to work for American Airlines from 1969 to 1970 as a pilot instructor.  In June 1971, he went to work for the Federal Aviation Administration, Mike Monroney Aeronautical Center in Oklahoma City as an Aviation Safety Inspector.  During his time with FAA, he learned to fly helicopters adding helicopter pilot and instructor to his list of many accomplishments.  He retired from FAA in January, 1993.
Even before retiring, Sterling was an accomplished woodworker and crafted many beautiful things.  He loved to tinker in his garage making, fixing, and repurposing one thing or another.  He spent countless hours in his yard planting trees, vegetable gardens and flowers.  Ribs cooked on the grill were his food-of-choice to prepare for any family gathering.  At Thanksgiving, he was in charge of making the stuffing and would eat almost as much of it before cooking as he would during the meal.  He had a quick wit and great sense of humor.
After moving with his wife to Sherman, TX in 2004, he became immersed in the Perrin AFB Historical Museum at North Texas Regional Airport in Denison.  He was a long-time volunteer and enjoyed telling visitors about the different items on display throughout the museum, including his own display and his father's WWI display.  He got a kick out of showing younger kids the vintage manual typewriter from 1930-40, and listening to them try to guess what it was.  Another of his favorite things to show is what he called the 7,000 pound dog whistle – a plane with a noise pitched so high it would make dogs bark.  He was in charge of the grounds surrounding the museum, planting most of the trees and roses that adorn its landscape to this day.
When you saw him in his later years, usually at Cracker Barrel and wearing the museum hat, he would invite you to visit the museum to take a tour of the memorabilia from all branches of the service, WWI to present day.  He was immensely proud of not only his own service, but that of his Father, Julius Moeller, who served in WWI.
Preceding him in death are his parents, of course, otherwise they would be really old.  He is survived by his wife of 31 years, Sue.  Already missing him are his children who were a great source of his pride, love and devotion.  They are Deborah Hicks and husband Kim, Pam Bates, Shanna Dixon, Susan Moeller, and Sterling Moeller II and partner Shawna.  He is also survived by stepsons, Randy Nall, and Dusty Hymer and wife Charla.
Sterling adored all of his children, grandchildren and great-grandchildren.  They enjoyed seeing his scrapbook of military memorabilia from his days as a pilot of both jets and helicopters.  Missing their beloved Grandpa are 9 grandchildren and 6 step-grandchildren, and 6 great-grandchildren. They will hear the stories of their Great-Grandpa and know of his pride of country and family.
His entire life, Sterling loved dogs.  All dogs.  Every dog.  A few of his many loyal canine companions were Teddy, Peanuts, Lady, Brandy, Lucy, Chloe and Maggie.  In their time, they each enjoyed many morning drives to Braum's for a sausage biscuit.
Take time to hold your family, friends and pets close.  Be proud of their achievements, soak in their love.  And if you stop in at the museum, take a moment to look at the stone rings around the trees.  You might see a few names of those who helped make it a success.  Walk around the displays where much of Sterling's military memorabilia is on display, including his beloved scrapbook.  As you drive away, salute and wave to the F86D jet on display, the same as Sterling flew, as it's poised to soar heaven-bound taking him to touch the hand of God.
Dad asked that his final goodbye include this poem by Paul R. Shook:
Goodbye, I have seen the birth of dawn and the sunset die and rode my steed, the thunder, across the endless sky. I have lived among the towering heights and known a thousand, nay, a million endless wonderous delights. And beyond the swirling mists on high I have rolled and zoomed far above, enveloped in the golden glory of my one, my love. So how do you say goodbye to a pair of silver wings, a sunlit sky and oh so many things?  After all these joys I have known, how do you say adieu?  I know not how my friends, do you?
A memorial service with military honors was held on Friday, April 22, in the Chapel on the Hill, at Cedarlawn Memorial Park in Sherman.
Source: Waldo Funeral Home