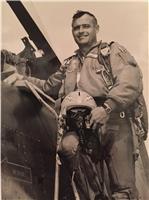 SSS member Ronald Schaertl, 89, headed west while at Windcrest Nursing Home in Fredericksburg, Texas on May 1, 2018. He was born in New York City on Sept 1, 1928 to the late George and Iva (Beavers) Schaertl. He spent most of his youth in Seneca Falls, N.Y. where he was known as a talented athlete, playing running back on the Mynderse Academy football team. That talent attracted the attention of his soon-to-be bride and life-long best friend, Margaret (Bette) Burgess.
From an early age, Ron had a passion for airplanes and flight. After attending the University of West Virginia and obtaining his degree from Cortland College, he joined the New York Air National Guard and went through flight training. With the Berlin Crisis of 1961, Ron was called away from his coaching career and family and was stationed in France. It was during that time that he decided to become an Air Force fighter pilot. Fulfilling his love of aviation, he flew F-86 Sabres, F-94 Starfires, F-100 Super Sabres (353TFS Myrtle Beach; 493TFS Lakenheath), F-105 Thunderchiefs and F-4 Phantoms. During his 26-year distinguished Air Force career, Ron saw much of the world including two tours of combat duty in Southeast Asia flying combat missions over Vietnam. Ron used to say that he gained weight during that time because he would eat a huge breakfast before every mission in case it was his last meal.
Ron joined the Caterpillar Club in 1967 when he was forced to bail out of his F-100 over Libya after an engine failure. He was also the recipient of a Top Gun award when flying with the 496th Tactical Fighter Squadron in 1976. His service to the country was honored with medals including a Bronze Star with one Oak Leaf Cluster, the Air Medal with four Oak Leaf Clusters, the USAF Meritorious Service Medal, the Joint Service Commendation Medal, and the Republic of Vietnam Gallantry Cross with Palm Device.
Ron retired from the United States Air Force as a command pilot in the grade of Major on Dec 31, 1979, and he and Bette settled in Del Rio, TX. There, Ron continued to work in the aviation field selling aircraft for Del Rio Flying Service. While in Del Rio, Ron enjoyed boating and bass fishing at Lake Amistad and hanging out at the airport with the other pilots. Later, they resettled in Johnson City, TX where, at the age of 80, he bought his last aircraft and continued flying until he was 88. Ron loved spending time with his family and friends, taking them for rides in his plane, and teaching the children to play ball. His love of laughter was infectious and his family has many joyous memories of gatherings around the kitchen table.
Ron is survived by his wife, Margaret Elizabeth (Bette) Schaertl of Johnson City, Texas; daughter, Connie Schaertl of Dripping Springs, Texas; son, Dan (Laurinda) Schaertl of Johnson City, Texas; and daughter, Ann (Chris) Gnann of Glendale, Ariz.; his grandchildren Jay (Carrie) Schaertl, Chad (Lindsey) Schaertl, Willow Coyle, Laurel Coyle, Ryan Gnann and Andrew Gnann; great-grandchildren Kipton Schaertl, Kaitlyn Schaertl and Josephine McCauley; and his brother, George (Sally) Schaertl of Shortsville, N.Y.
He was preceded in death by his son, John Jay Schaertl; and his brother Gerald (Mickey) Schaertl.