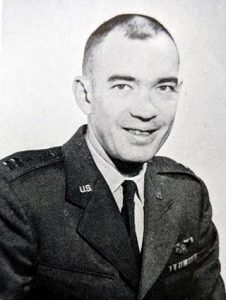 Name: Lawrence Thomas Holland
Rank/Branch: O4/US Air Force
Unit: 615th TFS
Date of Birth: 15 May 1934
Home City of Record: Alhambra CA
Date of Loss: 12 June 1965
Country of Loss: South Vietnam
Loss Coordinates: 113431N 1065341E (YT088795)
Status (in 1973): Killed/Body Not Recovered
Dutch Holland's initial MIA report says Major Lawrence T. "Dutch" Holland flight lead of two F100D's fragged on a Close Air Support mission scramble, during the early Rolling Thunder Air Campaign. After his first few passes in close proximity to special forces camp near Don Luan in Phuoc Long Province, and ejeted after being hit. A parachute was observed in 100-foot trees. A rescue helicopter landed in the nearest clearing and the helicopter crew proceeded on foot into the woods. They were fired upon by Viet Cong and observed the enemy drag the limp body of CaptHolland into a ditch. The helicopter crew was unable to recover his lifeless body.
In late August 1971, the Air Force received information which they believed sufficient to determine that Holland had died at the time of the incident. It was determined Holland had been shot and killed by Viet Cong soldiers after he opened fire on them. Maj. Holland was reportedly buried in the immediate vicinity of the incident. His status was changed to Killed in Action/Body not Recovered. he was almost in the grasp of rescue teams but appeared to have been lifeless.
Super Sabre Society Members share their recollections of "Dutch" Holland:
Win Reither: remembers Larry "Dutch" Holland as the Squadron Officers School Section leader of our class 64A (Jan- March 1964) with and Tim "TZ" Ogle.  He was a great athlete and an impressive officer. Six years after his shoot down, he was awarded the Air Force Cross.
From Robert M. Greene (Misty 30):
On 10 June, 1965 on my first tour to Vietnam while we were deployed to Da Nang at the beginning of Rolling Thunder, a gradual and later sustained aerial bombardment campaign conducted by the USAF 2nd Air Division  . We had a three-ship and took off in the afternoon to provide close air support. Many flights were scheduled as they were under heavy attack and it appeared the VC and NVN were trying to overrun the Fort. We had Rockets, Napalm and 800 rounds of 20 MM. As we approached the Fort the flight before us was just pulling off, so we were cleared in to strike the earthen walls of the compound. There was no Forward Air Controller (FAC), so we were talking directly to the US Advisers. In talking to them it was very evident that there was a sense of urgency in their voices.
After dropping the Rockets and Napalm we asked what we should Strafe. In what I would call a panic he told us to strafe the walls of the one building left standing where the three US Advisers were. We told him this was rather dangerous as pieces could kill or injure them. He replied that it didn't make any difference as they were trying to come in the windows and they would soon run out of ammo to shoot them with.
Our tactic was to get a little offset (about 10-15 degrees) and put our pipper right at the base of the foundation. Next, we strafed along the base of the building on both sides and kill anybody trying to crawl through the windows, but our flight lead ran out of bullets after 3 passes. Another flight from the other Squadron at Da Nang was overhead though so as we pulled off and they rolled in. I still had some 20 MM left as I had strafed in shorter bursts.
We were too short of fuel to make it back to Da Nang, so we refueled at Bien Hoa. As a couple of us had some 20 MM left we stopped at the Fort on the way back and strafed on 2 passes on some trees west of the fort where they shot at us from.
It was interesting that as we were on final on our return strafe runs the Bad Guys would fire mortars at us. These were evidenced by big flashes on the ground. We also saw lots of small arms flashes, pinpointing targets to strafe. In talking to the US Advisors we found that they were not trying to get in through the windows anymore and things sounded better.
The flight that followed us was led by led by Dutch Holland was who was shot down and later confirmed as KIA. An Army helicopter had landed and run through the trees to get him but as they neared him they saw two VC dragging off Lawrence A "Dutch" Holland.
Keith Connally, tells us: I was at England AFB along with Dutch.  Our squadron the 416th went TDY to Danang along with some of our sister squadrons from England AFB.  We were there when Dutch went down although there wasn't much info about Dutch other than his chute was observed hanging in the target area.  The area he went down had reports of lots of Viet Cong and they were very selective when they chose to shoot at us.  The high trees were another factor that made weapons delivery tricky.  Later in the day, our flight was tasked to go into the target area and listen for possible beepers, there were none.  After Dutch's loss, a sister squadron also lost Hayden Lockhart.
The real tragedy occurred when our unit redeployed back to England AFB and several members from both families met us on the flight line seeking information about their loved ones!  Of course, we really had nothing of consequences to offer the families and I'll never forget the "look of despair" on the faces of family members.  As you know, this was the start of the war and these incidents really drove home the seriousness of combat to all of us.  You might recall that in those days, some of us were still being paid by "cash" at the end of the month.  This procedure denied the survivors the ability to get access to money…all of us immediately opened joint banking accounts with our spouses.
Grady Talbot, 615th TFS recollection
Dutch was in the 615th TFS at the time he was downed.  He was a squadron mate.     Dutch hadn't been in the squadron too long, as I remember.   I had initially been assigned to the 615th after I graduated from Luke, in October 1964.   Within a month, of arriving at Alexandria AFB, I, along with 7 others, was tasked to the Sawbuck detachment at Takhli, supposedly for a 30 day TDY.    However, it was extended, and I stayed at Takhli for three months and then was transferred to DaNang, where the 615th had just flown in.   I ultimately went home in June 1965, along with the other Sawbuck troops.  The 615th stayed at DaNang for another month I believe and then rotated home.   It was during that time after I had left, that Dutch was downed.   The story you related in this post is exactly how I remember it being told back in the day.   Early on, Craig Smith was shot down over the Thanh Hoa bridge, then Ron Bigoness was shot down, (and) was rescued.   Dutch was the next one shot down.  A year later, on our return to Vietnam, the 615th lost two more, Bill Gower and John Skoro.    There were more lost after I left the squadron, but of course, I didn't know them. I remember Dutch as a friendly guy.    May he Rest in Peace.
Comments/Citation
AIR FORCE CROSS CITATION
HOLLAND, LAWRENCE THOMAS (MIA-KIA)
Citation:
The President of the United States takes pride in presenting the Air Force Cross (Posthumously) to Lawrence Thomas Holland (555441686), Major, U.S. Air Force, for extraordinary heroism in military operations against an opposing armed force in Southeast Asia while serving as Pilot of an F100D Supersabre of the 615th Tactical Fighter Squadron, in action in Southeast Asia, on 12 June 1965. On that date, Major Holland led a flight of F-100 aircraft against a heavily defended area which had been captured by the Viet Cong. He was directed to destroy automatic weapons positions and structures within the target area. Major Holland led his flight on one low-level attack and destroyed a significant gun position. However, heavily concentrated automatic weapons fire from several other ground positions was reported. With complete disregard for his personal safety and despite the withering ground fire, Major Holland continued the attack and delivered his ordnance directly on target. His outstanding dedication to duty, superior initiative, and mission performance resulted in the destruction of numerous hostile ground positions of vital significance to the Viet Cong. Major Holland's courage and devotion to duty are in keeping with the highest traditions of the American fighting man. Through his extraordinary heroism, superb airmanship, and aggressiveness in the face of the enemy, and in the dedication of his service to his country, Major Holland reflected the highest credit upon himself and the United States Air Force.