Vernon Hesterman "Headed West" on December 7, 2021.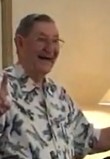 The SSS was notified by Vern's daughter Lisa that he passed away on December 7th. Vern flew the F-100 from 1957-1959 with the 98th Tactical Fighter Squadron out of Nellis AFB, NV.
For a look at the indomitable singing Bud Hesterman go to:
Bud Hesterman – John Deeres, Airplanes, and Songs – YouTube
Additional information will be posted as it becomes available.