Johnny H. Edmundson (Col USAF, Ret) "Headed West" on August 31, 2021.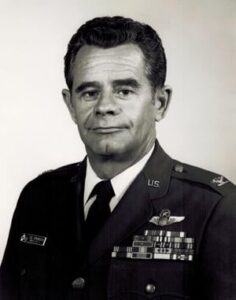 With much sadness, the family of retired Col. Johnny Haywood Edmundson announces the passing of its beloved father and hero Tuesday, Aug. 31, 2021.
Johnny was preceded in death by his loving wife, Anne, our mother, just nine days earlier. We are certainly grieving our losses, but because of our hope in the gospel of the Lord Jesus Christ, we are also rejoicing with Dad and Mom, as they are together again in heaven celebrating new life in the presence of their loving Savior.
Born to the late Jack and Pauline (Hill) Edmundson, in Wayne County on Sept. 11, 1935, Johnny grew up dreaming of serving his country as a fighter pilot.
After joining the United States Air Force, he achieved that goal, and while stationed in Mississippi, met and fell in love with his future wife, Anne Hudson Edmundson. The loving couple shared 63 years of marriage together and welcomed five children into their family, Elaine, Nanci, John, Joel, and Mike.
In later years, they enjoyed with delight their 16 grandchildren and great-grandchildren.
Johnny will be remembered for his keen intellect, deep generosity, wonderful sense of humor, and courageous patriotism.
During his service in Vietnam flying the F-100 Super Saber, he earned the Distinguished Flying Cross for heroism in the face of danger while protecting the United States and Allied soldiers.
He also served as an instructor pilot, and throughout his career, his valor and skill were recognized with numerous decorations. Some of the countries where he and the family were posted included Egypt, Ethiopia, Saudi Arabia, and Japan.
Johnny truly leaves behind a larger-than-life legacy. It is our prayer that his example of commitment to God, along with his spark for adventure, will live on and grow in the hearts of us all.
The Edmundson family will receive friends Tuesday, Sept. 7, 2021, in the fellowship hall of Antioch Original Free Will Baptist Church in Pikeville from 1 to 2 p.m.
A service to celebrate Johnny's life was held on Tuesday, September 7, 2021, and interment with full military honors followed in Eureka Cemetery.
Online condolences may be written at www.seymourfuneralhome.com.
Source: newsargus.com