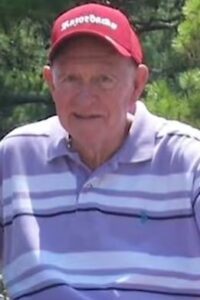 Wayne Earl Smith Sr., 88, of Cabot, AR, passed away on February 22, 2022. He was born February 12, 1934 in Little Rock, Arkansas to Ed Bixby Smith and Myrtle Buna (Polk) Smith. In addition to his parents, Wayne is preceded in death by his first wife, Mary Carol (Haley) Smith; and sister, Alma Virginia Becknell. He was a proud fighter pilot in the United States Air Force and achieved the rank of Lt. Colonel before retiring.
Those left to cherish Wayne's memory include his wife, Virgilia Batausa Smith; daughters, Kimberly Smith-Britten and Sandra Jean Smith; sons, Scott Allen Smith, Michael Lee Smith, and Wayne Earl Smith Jr; brother, Jimmy Lee Smith;  as well as eleven grandchildren and seven great-grandchildren.
Funeral services were held on Saturday, February 26, 2022 at First Baptist Church in Jacksonville. The family asks that memorial donations be made in Wayne's name to either First Baptist Church in Arkansas or to the American Legion.
He is buried in the Arkansas State Veterans Cemetery.