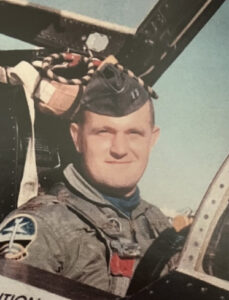 "Denny was born in Watertown, NY, and spent his early years in the small village of Philadelphia, NY.  He grew up in the shadow of the Adirondack Mountains which instilled a life-long love of the outdoors that he passed on to his family. Denny was a Boy Scout, attained the rank of Life Scout, and was inducted into the Order of the Arrow. He spent countless hours hunting and fishing, and especially loved spending time along the St. Lawrence River.
In 1951, Denny and his family moved to the village of Arcade in western New York. He attended Arcade Central School for two years where he was a three-sport varsity athlete (football, basketball, and baseball) and salutatorian of his high school class. Denny's many interests extended beyond sports; he participated in chorus, band, and other activities. He also represented Arcade on various local and American Legion baseball teams. In his spare time, Denny worked various jobs in town as a park laborer for the Village of Arcade, salesman at the Arcade Men's Shop, and pinsetter at the Arcade Bowling Alleys. He met his future bride (and class valedictorian), Shirley, during their high school years, and earned a baseball scholarship to Clarkson College in Potsdam, NY.
After one year at Clarkson, Denny was appointed to the United States Military Academy at West Point, where he played varsity baseball, B-squad football, and enjoyed the occasional tutelage of legendary Army football coach Earl "Red" Blaik. One of his fondest memories was serving as West Point's catcher in an exhibition game against the New York (baseball) Giants. Denny was behind the plate when the legendary Wille Mays hit a home run that is reputed to be still in orbit over the earth.  Despite his roommates' influence, he graduated in 1958 and was commissioned in the United States Air Force. He and Shirley married in Java Center, NY, shortly after graduation and began their lifelong journey together.
Denny completed basic pilot training at Bartow AFB, FL and Laredo AFB, TX to begin his 20-year career as a fighter pilot. He was a qualified pilot in multiple aircraft but accumulated most of his flying hours in the F-100, F-101, and his beloved F-4. Over the years, Denny and Shirley were stationed at Cannon AFB, NM; RAF Bentwaters, England; Davis-Monthan AFB, AZ; the Pentagon; Seymour Johnson AFB, NC; and MacDill AFB, FL. He deployed to Udorn RTAFB with the 13th Tactical Fighter Squadron and Ubon RTAFB with the 334th Tactical Fighter Squadron — which he eventually commanded. During these two deployments, Denny flew over 100 combat missions, many of which were in the heavily defended Route Pack 6 over North Vietnam. At Ubon, he was also asked to command the 408th Munitions Maintenance Squadron. Despite knowing very little about munitions, he worked tirelessly to improve morale and return the squadron to peak performance. Denny served with two important mentors at Bentwaters and in Southeast Asia: Brigadier General Robin Olds and General Daniel "Chappie" James. These two men greatly influenced Denny and set the example for his leadership and character.
Denny served as chief of the Air Force's legislative liaison office with the U.S. Senate from 1975-1977.  In this role, he travelled widely with Senators from both parties, gained new insights into our nation's governance, and became especially close with Senator Barry Goldwater of Arizona. Senator Goldwater honored Denny's service by participating in his retirement "last flight" at MacDill AFB, FL, in 1978.
After retiring from the Air Force as a Colonel, Denny continued serving his country as Minority Counsel to the U.S. Senate Intelligence Committee and then joined Senator Goldwater's personal staff as a special assistant for armed services matters. In 1983, he left the Senate for a new career with McDonnell Douglas Corporation where he ultimately served as Eastern Region Vice President.  In 1994, he permanently retired and divided his time in later years between homes at Lake of the Woods, VA and The Villages, FL.
Few friends and colleagues are aware that Denny was a member of the Screen Actors Guild in the late 1960's. By sheer luck, he was awarded a small part in a television commercial for the Phillips-66 gas station chain. The commercial provided a little extra income for a young Air Force family, and Denny would reward his two oldest children with a quarter every time they spotted the commercial on TV.
Denny earned numerous decorations during his service including Command Pilot wings and the Legion of Merit. He was awarded the Distinguished Flying Cross three times for actions during combat missions. On one mission, he attacked and destroyed four anti-aircraft guns – which allowed rescue forces to safely reach a downed U.S. Marine Corps aviator.
Denny earned a Bachelor of Science degree from the U.S. Military Academy, a Master of Science in Systems Management from the University of Southern California, and graduated from the National War College.
He is survived by his beloved wife of 64 years, Shirley; daughter Susan Sharon; son Patrick Sharon (Michele); son Michael Sharon (Evalyn Fisher); and granddaughters Katie Yursky (Ryan), Kelly Sharon, and Meghan Sharon. In addition, he leaves behind his West Point classmates; Air Force comrades; the Goldwater office staff; colleagues from McDonnell Douglas Corporation; and countless friends, neighbors, and golf partners.
Denny was preceded in death by his father, Luke; mother Evelyn; and brother Paul.
A Memorial Mass will be held at 2 p.m. on Wednesday, November 23, 2022 at St. Veronica Catholic Church. Interment with military honors will take place at Arlington National Cemetery at a future date.
In lieu of flowers, the family asks that you consider making a charitable contribution to AIM for The Handicapped, which helps individuals with visual handicaps, hearing impairments, emotional or learning disabilities, autism and orthopedic or coordination problems to achieve their highest potential.
Please share your memories and photos of Denny on this tribute wall. They are a priceless gift to the family.
Beat Navy!"
Source: https://www.covenantfuneralservice.com/tributes/Dennis-Sharon#tributewall