February 1, 1946 – August 4, 2016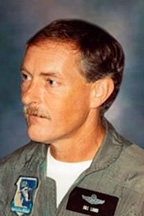 SSS Member William John Lamb—Bill to his friends, "Chops" to his fellow pilots—was born February 1st, 1946 in Mineola, NY to William and Doris Lamb. Bill grew up primarily in Lake Oswego, OR, attending Jesuit High School and the University of Portland. It was at the University of Portland that Bill met Janie Lei Smiddy, his wife of forty-eight years. They both graduated in 1968. An ROTC cadet in college, Bill went on to become a fighter pilot in the United States Air Force. In his distinguished twenty-year career, Lt. Col. Lamb fought in the Vietnam War; flew the F-100, F-4, F-5, and F-15; and was Commander of the Fighter Weapons School at Nellis Air Force Base from 1983-1985.
After retiring from the Air Force in 1988, Bill went onto fly jets for eleven more years as an instructional pilot in Saudi Arabia with both Lear Siegler and, in particular, British Aerospace. He returned home permanently in 1999 and took a job as an instructor/subject matter expert for CBD at the Fighter Weapons School at Nellis Air Force Base. Bill retired in 2013.
An avid sports fan, he coached both his sons' soccer and baseball teams and steadfastly rooted for the Yankees, Fighting Irish, Rams, and Trailblazers. A devout Catholic, Bill's faith was the guiding principle of his life. Dogs held a special place in Bill's heart. He and Janie cared for many throughout his life, and he was as loyal to them as they were to him. Along with a loving family, Bill has been blessed with an abundance of friends. A genuine love of people, conversation, and libation has filled his life with so much happiness. He loved fully and was fully loved in return.
Bill is survived by his wife Janie; sons Mike and Steve; their wives Stephanie and Jennifer; grandchildren Tatym, Cameran, and Drake; sisters Martha and Joan; dog Beegs; and loads of friends in the United States, Great Britain, and Australia. He was preceded in death by his parents and brother John. A funeral service will be held at St. Thomas More Catholic Church in Henderson, NV on Saturday, August 20th, 2016 at 10:00 A.M. The family asks that in lieu of flowers, a donation be made to the ASPCA, St. Jude Children's Research Hospital, or the Air Force Aid Society.