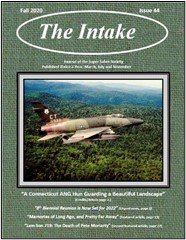 Issue 44 of The Intake Coming Soon!
The Fall 2020 edition (Issue 44) of our journal went to our printer on 30 NOV and was scheduled to be delivered to our mailing contractor by 9 or 10 NOV. That means Issue 44 is now winding its way through the process of getting your copy to you … wherever you are. Given the mailing contractor's usual workload, your copy should go into the USPS First Class, Pre-Sorted Mail by 10-13 NOV. So, expect to see your copy in your mail-container NLT a few days from the actual mailing date, depending on how far you live away from Ft. Worth, TX. Unfortunately, we hear our overseas readers will have to wait near-on to two or three weeks after the mailing for their copy. Sorry 'bout that, Gents!
Meanwhile, on our Website, all of you can explore the table of contents, featured articles in Issue 44, the SYC "Scoreboard" and DTDH "Roundup," and other information about our journal. Be sure to take a look at "The Big Picture" near the bottom of the Intake web page showing all 36 pages (in miniature). Click on the Home Page link titled The Intake.  Or, go via Direct to URL https://supersabresociety.com/the-intake-journal-of-the-super-sabre-society/.
Enjoy! — R. Medley Gatewood: Publisher (For only one more edition after this one.)