Jan Nugent sent the following email to the SSS "I thought you may like to know that Jim will finally be put to rest at Arlington Cemetery on November 20 this year. It has been so long but my daughters wanted this very much. If any Misty pilot happens to be in D.C. at that time we would welcome you. He is the first one that day so we are to be at the chapel by 8:00 and it starts at 9:00. We had asked for a very simple grave service. The guy arranging it said, 'No you get the whole deal." Wow!
Take care all you Mistys!"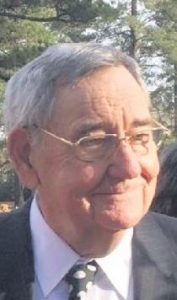 James (Jim) A. Nugent (Col USAF, Ret.) "Misty 101", died May 26, 2019, at the VA Hospice in Lexington, KY. Jim graduated from Tioga High School in 1958 and went on to a distinguished 30-year career in the US Air Force, followed by a number of years supporting the armed forces as a defense contractor. He and Jan retired in 2007 in Lexington, KY.
From July 1968 – Aug 1968 Jim was stationed at Myrtle Beach AFB, SC (attached to National Guard F-100 unit). From September of  1968 to September 1969, he served with the 612th TFS at Phu Cat, Tuy Hoa, and Phan Rang Air Bases in Vietnam. From March 1969 to Jun 1969 he was assigned as Misty 101.
Jim leaves behind his wife of 58 years Helen Janice (McCann) Nugent, daughters Karen Nugent and Julye Nugent, sister Mittie Durham and brother-in-law George Durham, and many beloved nieces, nephews, and friends.
Jan's contact number is 859-457-7102.