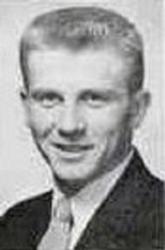 Milo G. Maahs Receives DFC Posthumously
Milo George Maahs was born on May 6, 1937, in Nashua, MN. He was serving as a Captain with the USAF when he began his tour of duty in Vietnam with the 7th Air Force, 35th Tactical Fighter Wing, 614th Tactical Fighter Squadron out of Bien Hoa AB, Vietnam. He began his tour on June 15, 1968. On January 21, 1969, Milo was flying F-100D #563158 on his 146th mission when his airplane was hit by gunfire. The F-100 crashed and Capt Maahs was KIA. He was recovered by an Army Helo.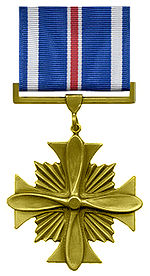 He received the DFC posthumously in June 2020.
His Citation reads: The President of the United States takes great pleasure in presenting the Distinguished Flying Cross (Posthumous) to Captain Milo G. Maahs for extraordinary achievement while participating in aerial flight as an F-100 Tactical Fighter Pilot near Duc Hue, the Republic of Vietnam on 18 July 1968. On that date, Captain Maahs attacked a large, well-fortified hostile force near friendly troops. Despite heavy automatic weapons fire and marginal weather conditions, Captain Maahs made repeated, accurate, low altitude ordnance deliveries against the hostile positions. By his courage and fearless devotion to duty Captain Maahs dealt a serious blow to the hostile forces and contributed significantly to Air Force operations in Southeast Asia. The professional competence, aerial skill, and devotion to duty displayed by Captain Maahs reflected great credit upon himself and the United States Air Force.
Because We Flew
Once the wings go on, they never come off whether they can be seen or not. It fuses to the soul through adversity, fear and adrenaline, and no one who has ever worn them with pride, integrity and guts can ever sleep through the call of the wild that wafts through bedroom windows in the deep of the night.
When a good flyer leaves the job and retires, many are jealous, some are pleased, and yet others, who may have already retired, wonder. We wonder if he knows what he is leaving behind because we already know.
We know, for example, that after a lifetime of camaraderie that few experience, it will remain as a longing for those past times.
We know in the world of flying, there is a fellowship which lasts long after the flight suits are hung up in the back of the closet.
We know even if he throws them away, they will be on him with every step and breath that remains in his life.
We also know how the very bearing of the man speaks of what he was, and in his heart, still is.
Because we flew, we envy no man on earth.
– Author Anonymous