The F-100 Super Sabre Legacy Begins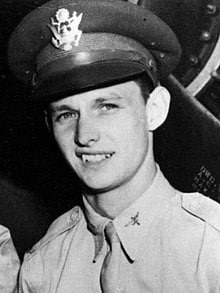 The first test pilot of the F-100 Super Sabre was George Welch. Born George Lewis Schwartz in May of 1918, his parents changed his name for fear of anti-German-sentiment. Welch grew up in Wilmington, Delaware, the son of a research chemist at Dupont.
After graduation from St. Andrew's School in 1936, he attended Purdue University for three years, studying mechanical engineering. In 1939 he joined the Army Air Corps, serving in WWII, becoming a Flying Ace and a Medal of Honor nominee. George Welch is one of the few P-40 pilots to engage Japanese forces in air combat during the attack on Pearl Harbor.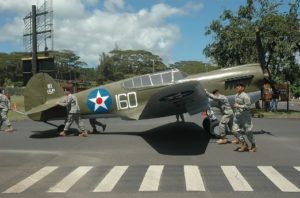 For his WWII service, Major George Welch received the Medal of Honor and a Distinguished Flying Cross. Other decorations include: His decorations include: the Silver Star, 2 Bronze Oak Leaf Clusters for his DFC, an Oak Leaf Cluster for his Air Medal, an AF Presidential Unit Citation, the American Defense Service Medal, American Campaign Medal, Asiatic Pacific medal with 6 Campaign Stars, and the WWII Victory Medal.
In 1944 George, a seven victory Ace, resigned from the USAAF, and went to work as a test pilot for North American Aviation. He flew the North American FJ-1, the first operational jet aircraft in United States Navy service,and the XP-86 which later became the F-86 Sabre, medium-range, single-seat, high-altitude jet-powered day escort fighter/fighter bomber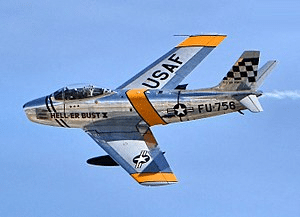 During a test flight of the XP-86 Welch encountered trouble while attempting to land. He lowered the flaps and gear but the nose gear would not fully extend. Welch tried to remedy the situation for 40 minutes, and when at a low-fuel state, he made a decision to land on Muroc Lake Bed in the Mojave Desert, without the nose gear fully extended. At touchdown, nose-high, he cut the engine, the XP-86 slowed, the nose gear snapped down and locked and the plane landed without damage.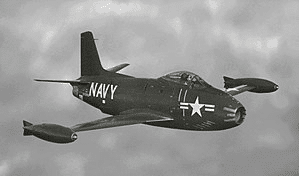 During testing, the Secretary of Defense had advised Welch and other North American test pilots not to attempt to break the sound barrier, as other aircraft test programs were expected to achieve that distinction first (the X-1). George had not been happy with the J35 engine in the XP-86 and had it replaced with the more powerful J47 but before that modification, some believe that George Welch broke the sound barrier several weeks before Chuck Yeager. George never claimed that result. The highest verified Mach number reached by Welch in 1947, as indicated by official flight test records, was about 0.93, in a maximum power dive from 45,114 ft (13,751 m) with the engine at 100.8% Military RPM (i.e. maximum power)1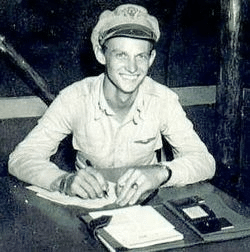 Welch continued to work for North American Aviation as chief test pilot, engineer and instructor. He served as an Instructor Pilot in the Korean War and was said to down several MiG-15's. These kills were attributed to his students as Welch was had been expressly forbidden to engage the enemy.
When he returned from the war, he continued with flight testing, this time with the F-100 Super Sabre, the first aircraft to fly supersonic speeds at level flight. He became the first person to break the sound barrier at level flight on May 25, 1953.
The F-100 was determined to have stability issues and during a test flight Columbus Day, October 12, 1954, Welch's F-100A-1-NA disintegrated during a 7G pullout at Mach 1.55, 45,000 feet altitude. The plane crashed into Rosmund Lake in the Mojave Desert. George was found still sitting in his ejection seat and was air-lifted to United States Air Force Plant 42 Hospital where he was pronounced Dead on Arrival.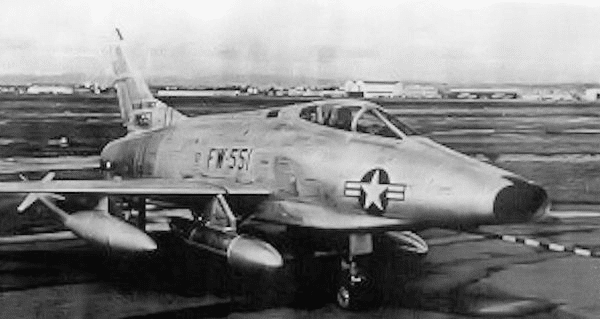 Welch is buried in Arlington Cemetery, but his legend lives on. He is the forefather of the Super Sabre Society.
Senator James H. Hughes (D-del.), Mrs. Hughes, Mrs. George Schwartz mother of Welch; George Schwartz his stepfather, and Lieutenant Welch shaking hands with President Roosevelt, 1942