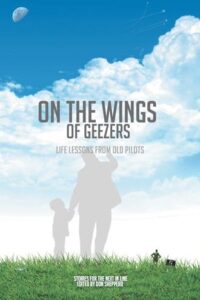 The Friday Pilots of Tucson, Arizona have done it again! Their second book is now available on Amazon, "On the Wings of Geezers" – Life Lessons from Old Pilots – you don't want to miss this one – the first printing has quickly sold out.
The Friday Pilots are a group of more than 30 retired military pilots that meet every Friday for lunch at Hacienda del Sol resort in Tucson. They lunch, they laugh, they lie. People ask, "Why would you lunch with the same guys every Friday?" Their answer, "If you have to ask you wouldn't understand."
An eclectic group of geezers, they flew the old airplanes, props, even B-29s, the early jets, the first of the supersonic era, the high-flying spy planes, the CIA Oxcart, the U-2, and SR-71. They fought in Korea and Vietnam and flew in space on Gemini and Apollo. They range in rank from 1st Lt. to a 4-star general. Six are over 90 and all are totally with it. They were hit by spotlights over the Yalu. They crashed and burned on their first F-86 solo. They led 60 F-80 aircraft missions in Korea as 1stLt's. They ejected upside down at 30,000 ft. from the A-12. They flew unescorted missions deep into Russia in the RB-47. They sat alert with large nuclear weapons. They attacked the first SAM in North Vietnam. They screamed in agony in the "ropes" from the floor of the Hanoi Hilton. They flew Mach 3.5 at 85,000 ft. They provided close air support for ground troops day and night, good weather and bad. They supported troops deep in the jungle with armed helicopters and tracked the NVA where they lived and fought.
They became Thunderbirds. They flew onto pitching Navy carrier decks at night. They fought the budget battles for stealth and night vision equipment, ECM and precision standoff weapons. They commanded units and fought in the desert. After a career flying fighters and a successful airline career, they almost perished in a racecar crash. This isn't just a book about their exploits. It is about what they learned about life flying in difficult times.
Another gift from the book is a unique cover designed by award-winning aviation graphic artist, John Mollison. The cover is full of embedded symbols – see if you can find them, front and back, in and on the grass and in the sky and amongst the clouds – an aviation treasure hunt.  Most parents don't leave anything written for their families, friends or for history. These men did. They are the REAL DEAL, and these are their 'life lessons from old pilots' suitable as a supplemental text for the classrooms of today. Most of the authors are recipients of the Distinguished Flying Cross and are members of the DFC Society.
• This book: www.amazon.com/books – On the Wings of Geezers
• Their first book: www.amazon.com/books – The Friday Pilots
• Book royalties will be gifted to the Fisher House Foundation to aid military families
It shows the cost as $31.87 / $3.99 Kindle, mouse down a little lower where it says "new and used" and you will see $20.99 and $23.10 and $23.27 – they are all new and for sale by different vendors.