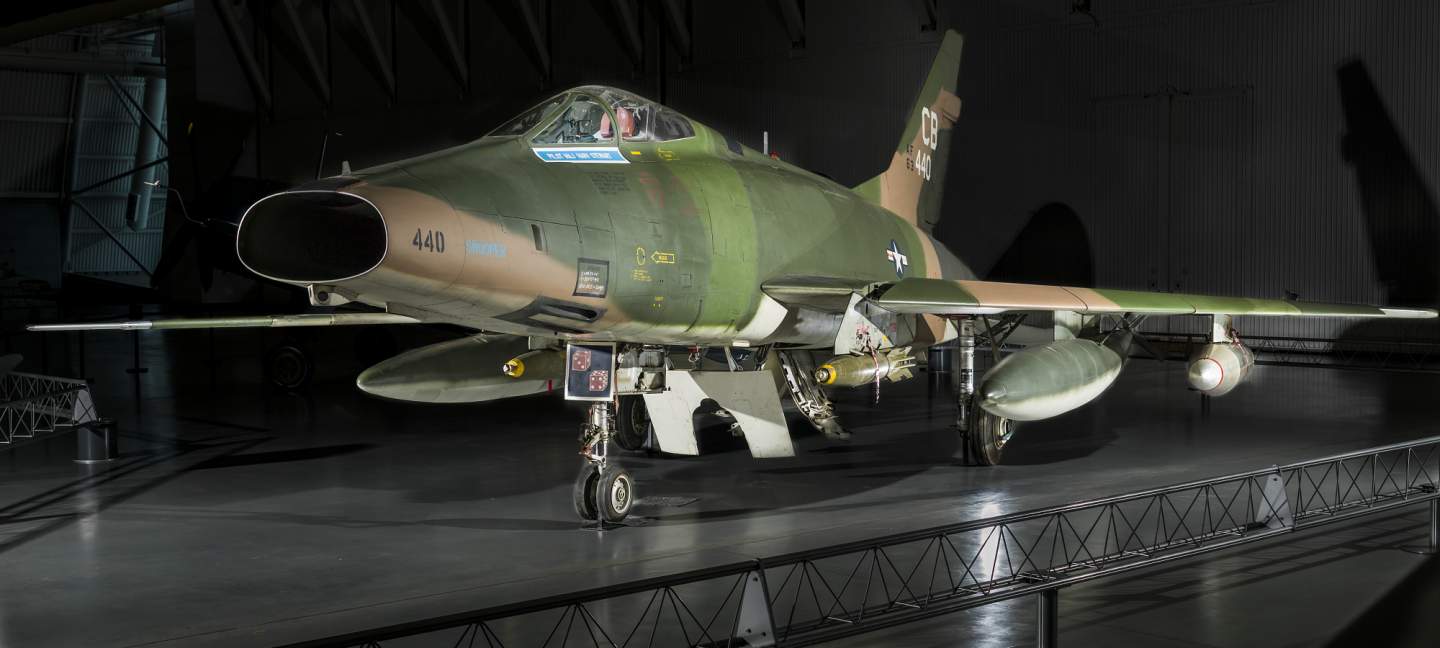 The last F-100 left Vietnam for the U.S. Its departure ended the F-100's combat employment which began in 1964 and produced 360,283 combat sorties with 243 aircraft losses.
On 16 April 1961, six Super Sabres were deployed from Clark Air Base in the Philippines to Don Muang Royal Thai Air Force Base in Thailand for air defense purposes; the first F-100s to enter combat in Southeast Asia. From that date until their redeployment in 1971, the F-100s were the longest-serving U.S. jet fighter-bomber to fight in the Vietnam War. They served as MiG combat air patrol escorts for F-105 Thunderchiefs, Misty FACs, and Wild Weasels over North Vietnam, and were then relegated to close air support and ground attacks within South Vietnam.
By the war's end, 242 F-100 Super Sabres had been lost in Vietnam. The F-100 was progressively replaced by the F-4 Phantom II and the F-105 Thunderchief. The Hun had logged 360,283 combat sorties during the war and its wartime operations came to end on 31 July 1971. The four fighter wings with F-100s flew more combat sorties in Vietnam than over 15,000 P-51 Mustangs flew during World War II. 
After 1965, they did not fly into North Vietnam and mainly performed close air support missions. No F-100 in Vietnam was lost to enemy fighters, but 186 were shot down by anti-aircraft fire, seven were destroyed from Vietcong attacks on airbases, and 45 crashed in operational incidents.
For the full article on Wikipedia go to https://en.wikipedia.org/wiki/North_American_F-100_Super_Sabre
(source: Wikipedia)