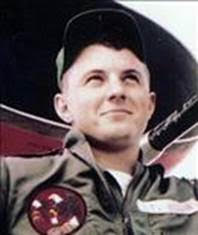 SSS member Paul "Matt" Dillon headed west April 13, 2016. Born on the 6th of July 1937 in Fairmont, W.V., Matt graduated from Kent State University, Ohio in June 1960.
Forsaking his Chemistry degree, he immediately entered Pilot Training Class 62A at Moore AFB, TX. After graduation, he flew the F-100 Super Sabre at Luke AFB in AZ. and Cannon AFB in N.M. In 1964 he retrained in the F-105 Thunderchief, affectionately known to its pilots as the "Thud". The next four years were spent assigned to Kadena AB, Okinawa, with a total of five temporary deployments to Vietnam and Thailand, where he completed 107 Missions over North Vietnam in the Thud. For his missions over the North earned him the Silver Star twice, the Distinguished Flying Cross six times and numerous Air Medals.
Subsequent assignments were into and out of the Thud, eventually serving as an inspector, flying with the Reserve Forces. After a tour at Tactical Air Command Headquarters, Matt returned to flying assigned D.M. AFB in Tucson as an inspector pilot in the A-10 training program. He served in that capacity until his retirement in 1984.
In spite of flying two other great aircraft, the F-100 and the A-10, his true love was the Thud, as ground spare with a chance to move up and excel. Matt then started his own business "Revolve Store" where he helped many people keep their Volvo on the road. After 13 years and his second retirement, he signed on as a volunteer at the Pima Air & Space Museum.
Matt is survived by his loving wife, Judy; a son, Michael of TX and three grandchildren. Besides his parents, he was preceded in death by his daughters, Lisa and Andrea. We would like to give a special thank you to all the wonderful people at the Cancer Center for their exceptional care. A Memorial Service was held at the Davis Monthan AFB Heritage Park.
 To most people, the sky's the limit; to an aviator, the sky is home. He's home now.
Published in the Arizona Daily Star on Apr. 24, 2016 – See more at: Https://www.legacy.com/obituaries/tucson/obituary.aspx?pid=179731318#sthash.kO500qgo.dpuf