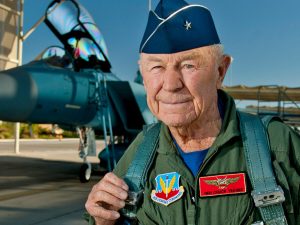 "A World War II fighter ace and Air Force general, he was, according to Tom Wolfe, "the most righteous of all the possessors of the right stuff."
Chuck Yeager, the most famous test pilot of his generation, who was the first to break the sound barrier and, thanks to Tom Wolfe, came to personify the death-defying aviator who possessed the elusive yet unmistakable "right stuff," died on Monday in Los Angeles. He was 97.
Charles Elwood Yeager was born on Feb. 13, 1923, in Myra, W. Va., the second of five children of Albert and Susie Mae (Sizemore) Yeager. He grew up in nearby Hamlin, a town of about 400, where his father drilled for natural gas in the coal fields…
He enlisted in the Army Air Forces out of high school in September 1941, becoming an airplane mechanic. One day he took a ride with a maintenance officer flight-testing a plane he had serviced and promptly threw up over the back seat. But he joined a flight program for enlisted men in July 1942, figuring it would get him out of kitchen detail and guard duty. He received his pilot wings and appointment as a flight officer in March 1943 while at a base in Arizona, and was commissioned as a second lieutenant after arriving in England for training. "(1)
On October 14, 1947, Chuck Yeager became "the fastest man on Earth" as he broke the sound barrier by flying at Mach 1.07.
Yeager was foremost a fighter pilot and held several squadron and wing commands. From May 1955 to July 1957, he commanded the F-86H Sabre-equipped 417th Fighter-Bomber Squadron (50th Fighter-Bomber Wing) at Hahn AB, West Germany, and Toul-Rosieres Air Base, France; and from 1957 to 1960 the F-100D Super Sabre-equipped 1st Fighter Day Squadron (later, while still under Yeager's command, re-designated the 306th Tactical Fighter Squadron) at George Air Force Base, California, and Morón Air Base, Spain. (2)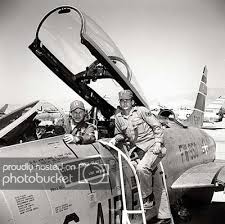 "Combat has always been the ultimate flying experience for Chuck Yeager and he finally returned to it in 1966 when he took command of the 405th Fighter Wing. With his headquarters at Clark Air Base in the Philippines, Yeager commanded five squadrons and detachments scattered across Southeast Asia: two tactical bomber squadrons flying B-57s out of Clark and Phan Rang Air Base in South Vietnam; a squadron of F-100 fighter-bombers based in Taiwan; a pair of F-102 air defense squadrons flying out of Da Nang, South Vietnam; and detached units flying a variety of aircraft, including F-4s out of places like Da Nang and Udorn and Bankok, Thailand.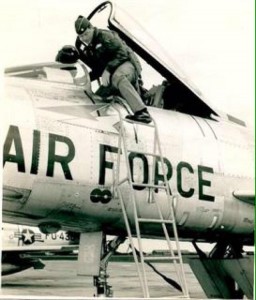 Yeager made an effort to visit and fly with each of these units once every 10-12 days. Flying primarily close air support and interdiction missions in a B-57, he added 127 flights and 414 hours to his combat record." (2)
Victoria Yeager, Chuck's 2nd wife has offered some glimpses into the man on her website (https://victoriayeager.com/).
Sources: (1) Chuck Yeager, Test Pilot Who Broke the Sound Barrier, Is Dead at 97 – Published in the New York Times By Richard Goldstein, Dec. 7, 2020 Updated Dec. 8, 2020, 9:41 a.m. ET
(2) Wikipedia
(3) To new heights, 1961-1977 By Air Force Flight Test Center History Office, Dr. James Young, Chief Historian, chuckyeager.com