The following article was sent by Raymond Harris, from Vietnam Veterans of America, Chapter 850.
Service Dog "Sabre" Presented to Delaware Veteran
Canines Assisting Service Heroes (CASH) is proud to announce the graduation and presentation of service dog Sabre.
On March 25, the Vietnam Veterans of America Chapter 850 outreach program Canines Assisting Service Heroes (CASH) made a special presentation during their annual Vietnam Veterans Memorial Day Ceremony. CASH presented service dog Sabre to US Air Force veteran Tom Labarrer.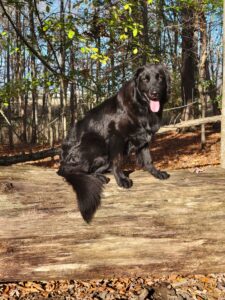 Tom started his Air Force career as a Security Forces Raven Team member where he provided security for Air Mobility Command aircraft around the world. After accumulating over 1800 flying hours, Tom decided to fly full time, cross-trained, and became a Loadmaster. During Tom's time as a loadmaster, he traveled the world on the C-5 Galaxy and was awarded the Air Medal for his service during Desert Storm. After a break in service, Tom returned to the Air Force Reserve as a firefighter and served at Dover AFB until his retirement.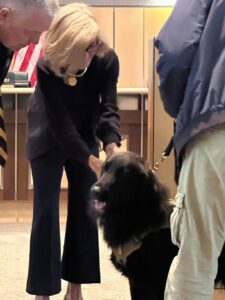 Service Dog Sabre is named in honor and memory of Brig. Gen. Jon
Reynolds. Gen Reynolds was an F-105 Thunder Chief and F-100 Super Sabre
pilot who served in Vietnam. Gen. Reynolds was shot down in 1965 and
spent over 7 years as a POW in North Vietnam. He was also a member of
Chapter 850.
On hand to assist in the presentation was Mrs. Emilee Reynolds. Mrs. Reynolds presented the graduation honors to Sabre by attaching his new collar in the colors of the Vietnam Service Medal. (Pictured left Mrs. Jon Reynolds placing the graduation collar on Sabre) (Pictured right Tom Labarrer, DeDe, and Mrs. Reynolds with Sabre).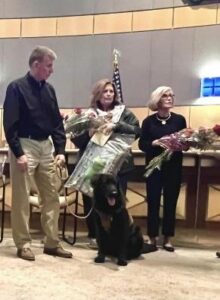 The CASH program's primary objective is to provide service dogs to Delaware veterans suffering from Post-Traumatic Stress (PTSD), Traumatic Brain Injury (TBI), and Military Sexual Trauma (MST). CASH has provided 14 service animals to Delaware veterans at no cost. The CASH program also provides health care services for these special dogs. For more information go to www.k9ash.org.
Some of the service dogs are presented by CASH. Left to Right. Tom Labarrer & Sabre, David White, his son & Chief, Cash & Elizabeth Short, Clyde Moyer (Vietnam Vet) & Kylo, Mike McBlain (foster parent) & service dog candidate Dewey, Luis Castineiras & Niki.