The following is from an article on afa.org…
"Bill Croom Honored as 'Enduring Leader'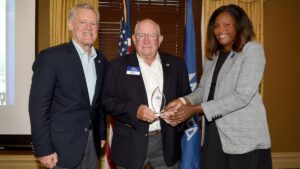 "Bill Croom, an AFA member for more than 60 years, was honored in Washington with a special "Enduring Leadership Award" by AFA President & CEO Lt. Gen. Bruce "Orville" Wright, USAF (Ret.).
A retired lieutenant colonel and combat veteran of the Vietnam War, Croom received the AFA President & CEO's special Enduring Leadership Award at a dinner Aug. 10 attended by board members and AFA staff.
Croom joined AFA in 1960 and currently is an AFA Director Emeritus with seats on the AFA Board's Finance Committee and Education Council. His past leadership posts include President of AFA's Lance Sijan Chapter 125, President for AFA in Colorado, Vice President of AFA's Rocky Mountain Region, AFA National Secretary, and as a Trustee for the former Aerospace Education Foundation. As a board member, he has served on numerous committees and played an integral part in establishing AFA's Emerging Leader Program in 2013 as the program's first Mentor Coordinator.
Croom was AFA's 2007 National Member of the Year and received the National Distinguished Sustained Aerospace Education Award in 2018. He has also received the AFA Chairman's Citation; the AFA Exceptional Service Award; and the AFA Medal of Merit.
"Now we again have a chance to thank Bill for his dedication to AFA, his service in our Air Force, and his undying friendship to all of us," Wright said."(1)
Source (1): https://www.afa.org/news/bill-croom-honored-enduring-leader