The Misty Experiment
Shep writes to tell us that as of May 2nd, The Misty Experiment, The Secret Battle for the Ho Chi Minh Trail is now on PBS.
Many PBS stations are showing the movie on Memorial Day. PBS  does not control local stations nationally so each local station determines its own schedule. Check your local PBS station listings for showtimes in your area.
The Distinguished Flying Cross Society sent out this bulletin:
Misty FAC Film to Show on PBS
DFC Society Has 24 Misty FACs As Members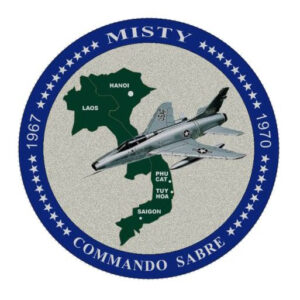 Dear Valued DFC SOCIETY Members –
During the month of May, the Public Broadcasting Service, PBS will tell the story of the Misty FACs in the Vietnam War, airing the film "The Misty Experiment: The Secret Battle for the Ho Chi Minh Trail."
Presented by Maryland Public Television, the film airs on public television stations across the country in time for Memorial Day (check local listings). The film will feature several Misty FACs who are in the DFC Society.
Press release for "The Misty Experiment," including links to photos, a trailer and more HERE.
Check your local listings, it may show on earlier dates. Viewing times airing on PBS WORLD (all times eastern and):
Saturday, May 28 at 6pm ET
Sunday, May 29 at 11pm ET
Monday, May 30 at 11am ET
About the Misty FACs
During the Vietnam War, U.S. Air Force Forward Air Controllers (FACs) normally flew slow, propeller-driven light aircraft to locate enemy activity. These activities also took place in Laos to spot North Vietnamese personnel and supplies moving south along the Ho Chi Minh Trail. The communists reinforced their infiltration routes with antiaircraft artillery (AAA) and surface-to-air missiles, and the loss rates over certain areas became unacceptable.
To approach this problem, the U.S. Air Force set up the COMMANDO SABRE program to use two-seat F-100F FACs over the most heavily-defended areas. On 25 June 1967, Detachment 1, 416th Tactical Fighter Squadron, commanded by Maj. George "Bud" Day, stood up and began operations at Phu Cat Air Base. The aircrews were volunteers and their radio call sign was Misty.
Misty FACs operated in high threat areas on the Ho Chi Minh Trail, focusing on its key passes from North Vietnam into Laos, and also spotted targets in southern North Vietnam. As FACs, they located and marked targets for other aircraft to hit, and they occasionally used their 20mm cannon to attack targets themselves. They supported rescue forces to recover downed aircrew, often being the first aircraft on the scene.  They remained on station for four to six hours, during which they left enemy air space multiple times to refuel from KC-135 tankers.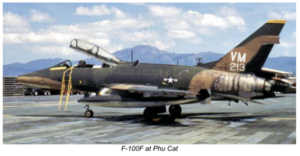 Nearly a quarter of the 155 Misty FAC pilots were shot down; two were shot down twice. Four Mistys were POWs in North Vietnam. Bud Day became a 5 1/2 year POW on 26 August, two months after the Mistys started; he was awarded the Medal of Honor for his conduct during imprisonment. Eight Mistys were killed-in-action (KIA) with their names listed on the Vietnam Wall in Washington D.C.
COMMANDO SABRE ended in May 1970, as F-4 Phantom IIs took over the role of Fast FAC, following the example and the mission of the Mistys. Tiger FACs worked out of Korat Royal Thai Air Base, Thailand, Wolf FACs were at Ubon, Thailand, Laredo FACs at Udorn, Thailand, and Stormy FACs were at Da Nang, South Vietnam. The legacy continues as the OA-10 took on the FAC role in 1987.
The legendary Misty FACS still remain a select group. Misty FAC pilots include Medal of Honor recipient Col. George "Bud" Day, two USAF chiefs of staff – Gen. Merrill "Tony" McPeak and Gen. Ronald Fogleman, two astronauts – Maj. Gen. Roy Bridges and Col. Charles Lacy Veach, five other general officers – Lt. Gen. Donald Snyder, Maj. Gen. Donald Shepperd, Maj. Gen. John Dickey, Brig. Gen. Ross Detwiler, and Brig. Gen. Walter Bacon, and the chief pilot of the first around-the-world unrefueled flight – Lt. Col. Richard Rutan.
DFC Society Misty FACs

The DFC Society is proud to have 24 Misty FACs listed on our Honor Roll.

George E. "Bud" Day, Misty 01

Corwin M. "Kipp" Kippenham, Misty 13

Keith "Eagle Eye" Heiniger, Misty 15

Phillip J. "PJ" White, Misty 21

Robert M. "Mick" Greene, Misty 30

James T. "Hog" Piner, Misty 33

Donald W. "Shep" Shepperd, Misty 34

Donald G. "Don" Jones, Misty 35

Charles H. "Whispering" Smith, Misty 38

Richard G. "Dick" Rutan, Misty 40

Paul K. "PK" Robinson, Misty 45

Wells T. Jackson, Misty 50

Charles A. "Chuck" Shaheen, Jr., Misty 52

Ross C. "Rosie" Detwiler, Misty 67

John L. "Bones" Kretz, Misty 68

Alton B. "Al" Winkelman, Misty 79


John H. Boles, Misty 91

Robert M. "Bob" Wilson, Misty 97

David A. "Dave" Skilling, Misty 104

Victor K. "Vic" Macomber, Misty 112

Jerry A. Hallman, Misty 118

Harry D. Scott, Misty 138

Logan J. "Jack" Doub, Misty 145

Donald Schmenk, Attached A-13
To view the film, tune in on your local PBS station just before Memorial Day – check your local listings.
Special thanks to Maj Gen Donald "Shep" Shepperd, Misty 34, for his input and assistance on Misty FAC history and people.
If you don't get PBS on your TV you can watch the movie online at PBS.org. Or click the following link.
The Misty Experiment: The Secret Battle for the Ho Chi Minh Trail | The Misty Experiment | PBS
If you have not visited the Misty FACs website, there are amazing stories there. Click on the following link to go to the Misty FAC's website.
MISTY FACs | Over North Vietnam and Laos: 1967-1970 (mistyvietnam.com)
Make Memorial Day a movie marathon. In addition to The Misty Experiment, you can watch Hun Pilots on Amazon Prime at