North American Aviation is issued a preliminary contract to build prototypes of the XF-108 long-range interceptor aircraft for the USAF.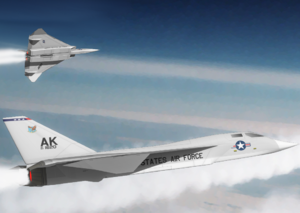 "The North American XF-108 Rapier was a proposed long-range, high-speed interceptor aircraft designed by North American Aviation intended to defend the United States from supersonic Soviet strategic bombers. The aircraft would have cruised at speeds around Mach 3 (3,200 km/h; 2,000 mph) with an unrefueled combat radius over 1,000 nautical miles (1,900 km; 1,200 mi) and was equipped with radar and missiles offering engagement ranges up to 100 miles (160 km) against bomber-sized targets.
To limit development costs, the program shared engine development with the North American XB-70 Valkyrie strategic bomber program and used a number of elements of earlier interceptor projects. The program had progressed only as far as the construction of a single wooden mockup when it was canceled in 1959, due to a shortage of funds and the Soviets' adoption of ballistic missiles as their primary means of nuclear attack. Had it flown, the F-108 would have been the heaviest fighter of its era.
The initial F-108 configuration featured a very large "cranked" delta wing. There were fixed ventral stabilizers on the wings, mounted at mid-span, and a tall all-moving vertical tailfin, supplemented by two ventral stabilizers that extended when the landing gear retracted. Although some earlier versions of the design had separate tailplanes or forward canards, both were abandoned in the final design.  The large fuselage and wing had two and five fuel tanks, respectively, giving an estimated combat radius of some 1,100 nautical miles (2,000 km). Top speed was estimated at 1,980 miles per hour (3,190 km/h), about Mach 3, at 81,800 feet (24,900 m). The aircraft was powered by two General Electric J93 turbojet engines, also used in North American's XB-70 Valkyrie bomber, in the fuselage.
The F-108 was intended to carry the Hughes AN/ASG-18 radar, the U.S.'s first pulse-Doppler radar set.  It was to have look-down/shoot-down capability but could track only one target at a time. The radar was paired with an infra-red search and tracking (IRST) system on the wing leading edges. The radar was used to guide the Hughes GAR-9 (later redesignated AIM-47) air-to-air missile, three of which would be carried on a rotary launcher in an internal weapons bay.  The GAR-9 was a very large, long-range weapon with its own radar set for terminal homing. It was intended to fly at Mach 6, with a range of almost 112 miles (180 km)."
"Prior to the project's cancellation, U.S. President Dwight D. Eisenhower noted that raising the F-108 interceptor force would have cost the U.S. taxpayer $4 billion (equivalent to $35 billion today)."
Source: Wikipedia