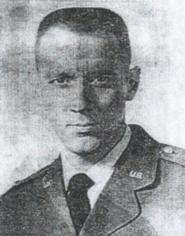 April 3, 1965. Major George Craig Smith was born in St. Louis, MO on March 6, 1940, and was known as "Crockett" to family and friends. Three days prior to his 25th birthday he was Killed in Action when his F-100D took AAA fire and crashed. Smith had been stationed with the 615 TFS out of DaNang.  In March of 1965, a decision to interdict the North Vietnamese rail system south of the 20th Parallel led to the April 3, 1965 strike. Seventy-nine aircraft were involved in the effort. Smith, in his F-100, was supporting bombers over the Thanh Hoa Bridge near Hanoi, North Vietnam when his aircraft was shot down. His remains were not recovered.
He is memorialized at Courts of the Missing at the Honolulu Memorial. This is an American Battle Monuments Commission location and is also honored on the Vietnam Veteran's Memorial in Washington DC. (Panel 01e, Line 100).
Also on this day 3 April 1941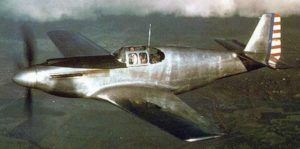 April 1941: Test pilot Robert Creed Chilton takes his first flight in North Americans'  prototype of a new fighter for the Royal Air Force, the NA-73X, NX19998, at Mines Field (which later became LAX).
The airplane would become the legendary P-51 Mustang, and Chilton would continue to conduct the majority of flight testing on its improvements and modifications.
The Mustang was designed by a team headed by James Kindelberger of North American Aviation (NAA) through the  British Purchasing Commission.  (1)
In WWII the P-51 excelled at taking out railways, locomotives, and rolling stock used by the Germans to transport materiel and troops, in missions dubbed "Chattanooga".
In the aftermath of World War II, the USAAF consolidated much of its wartime combat force and selected the P-51 as a "standard" piston-engined fighter, while other types, such as the P-38 and P-47, were withdrawn or given substantially reduced roles. As the more advanced (P-80 and P-84) jet fighters were introduced, the P-51 was also relegated to secondary duties.
At the start of the Korean War, the Mustang, by then redesignated F-51, was the main fighter of the United Nations until jet fighters, including North American's F-86, took over this role; the Mustang then became a specialized fighter-bomber. Despite the advent of jet fighters, the Mustang remained in service with some air forces until the early 1980s. After the Korean War, Mustangs became popular civilian warbirds and air racing aircraft.
After World War II, the P-51 Mustang served in the air arms of more than 25 nations.[12] During the war, a Mustang cost about $51,000,[5] while many hundreds were sold postwar for the nominal price of one dollar to signatories of the Inter-American Treaty of Reciprocal Assistance, ratified in Rio de Janeiro in 1947.[70]
Many P-51s were sold as surplus after the war, often for as little as $1,500. Some were sold to former wartime fliers or other aficionados for personal use, while others were modified for air racing.[100] One of the most significant Mustangs involved in air racing was a surplus P-51C-10-NT (44-10947) purchased by film stunt pilot Paul Mantz. The Mantz Mustang was sold to Charles F. Blair Jr (future husband of Maureen O'Hara) and renamed Excalibur III. Blair used it to set a New York-to-London (circa 3,460 miles or 5,570 kilometers) record in 1951: 7 hr 48 min from takeoff at Idlewild to overhead London Airport. Later that same year, he flew from Norway to Fairbanks, Alaska, via the North Pole (circa 3,130 miles or 5,040 kilometers), proving that navigation via sun sights was possible over the magnetic north pole region. For this feat, he was awarded the Harmon Trophy and the Air Force was forced to change its thoughts on a possible Soviet airstrike from the north. This Mustang now resides in the National Air and Space Museum at the Steven F. Udvar-Hazy Center.[101](2)
Source: (1) © 2017, Bryan R. Swopes, https://www.thisdayinaviation.com/3-april-1941/ and (2) Wikipedia
For more about the P-51 go to https://en.wikipedia.org/wiki/North_American_P-51_Mustang