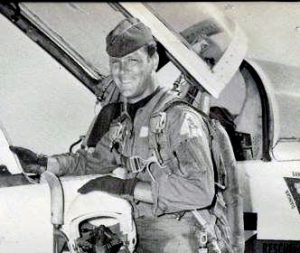 According to the Defense POW/MIA Accounting Agency, "on April 4, 1971, then 1Lt Smith was the pilot of a single-seat F-100D (#563120) aircraft as the leader in a flight of two aircraft on a combat mission over Cambodia [Kampong Thum Province]. While making a pass over the target, the pilot of the other aircraft noted white vapor streaming from the left wing of Smith's aircraft. It crashed a half mile from the target.
The other pilot reported that he did not see any ejection from Smith's aircraft and no beepers were heard. The following day, an aerial search revealed aircraft wreckage over a large area, but no remains were observed. Due to intense enemy activity in the area, ground forces could not attempt a recovery and Smith was declared missing in action."
Joseph Stanley Smith was born in Assumption, Illinois on May 7, 1945. He had been assigned to the 612th TFS out of Phu Cat. Joe had been married for just less than a year to his wife, Elaine.
U.S. and Kingdom of Cambodia teams, with the assistance of the U.S. Embassy's POW/MIA specialists, investigated the loss from 1996 until 2016. His remains were still with the wreckage of his F-100 and were positively identified using DNA and laboratory analysis in May 2017. In August 2017, more than 46 years after he was shot down, Capt. Joseph S. Smith was laid to rest in St. Mary Cemetery in Assumption, IL.
Joseph is honored on the Vietnam Veteran's Memorial in Washington DC. Name inscribed at VVM Wall, Panel 04w, Line 106.
(1) Source: https://www.thecompassnews.org/2017/08/air-force-pilot-shot-cambodia-mia-46-years-laid-rest/