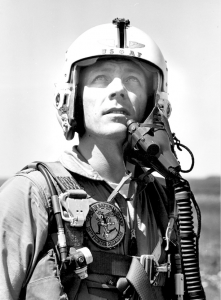 John Leonard Swigert, Jr. (30 August 1931–27 December 1982)
John Swigert was interested in aviation from an early age and became a licensed Private Pilot at age 16. In 1953 he was commissioned as a second lieutenant in the United States Air Force Reserve. He flew fighters from bases in Japan and Korea, then after completing his active duty requirement, 2 October 1956, he transferred to the Air National Guard. He served with the Massachusetts ANG and Connecticut ANG.
While flying with the Air Guard, Swigert also worked for North American Aviation, Inc., as an engineering test pilot, and then for Pratt & Whitney. John became one of 19 men selected as crew members of NASA's Apollo Program 1965. He requested an assignment as pilot of the Apollo Command and Service Module.
Swigert was a member of the support team for the Apollo 7 mission and was then selected for the Command Module Pilot for the Apollo 13 backup crew, along with John Watts Young and Charles M. Duke, Jr. When the primary crew CMP, Ken Mattingly, was thought to have been exposed to measles, he was withdrawn from Apollo 13 and Jack Swigert took his place.
Apollo 13 was planned as the third lunar landing mission. The circumstances of its flight are well known. When disaster struck, all three astronauts performed an amazing feat as they had to improvise their safe return to Earth.
Swigert left NASA in 1977 and entered politics. He was elected to the U.S. House of Representatives in 1982, representing the 6th District of Colorado.
On the night of 27 December 1982, before he could be sworn into office, John Leonard Swigert, Jr., aerospace engineer, fighter pilot, test pilot, astronaut and congressman, died from complications of cancer. (1)
(1) Source: Wikipedia