31 August 1955 – Lockheed Aircraft Corporation engineering test pilot Stanley Beltz is killed in a crash near Lancaster, California. Beltz was piloting an F-94B Starfire, modified to test the nose section of the BOMARC missile. (1)
"Stanley A. Beltz was a prominent test pilot and after joining Lockheed in 1943 flew almost every type of plane the company made, except the F-90 and F-104 Starfighter. He piloted the first test flight of the C-130 transport from Burbank to Edwards Air Force Base in 1954.
Less than a year later, he was dead at the age of 44. Beltz was testing an F-94B Starfire, the first jet fighter with an afterburner when he crashed 15 minutes after taking off from Palmdale. The Times news story on his death speculated that he was testing a plane that had been modified to fire air-to-air missiles. Neighbors in the remote desert area called Beltz a hero for guiding the disabled plane away from houses all the way to the ground instead of bailing out with the ejection seat."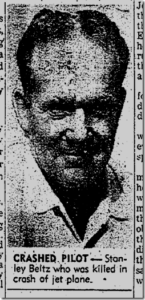 In 1946, "Low flying charges have been filed by the Civil Aeronautics Administration against Stanley Beltz, Lockheed test pilot, who reportedly took a four-engined Constellation down to 200 feet or less over a Playa Del Rey residential district last Friday.
The complaint, turned over to the CAA, declares Beltz violated minimum altitudes (1,000 feet), endangering lives and property.
Beltz denied being as low as householders reported. He explained he descended toward the coast to test a radio altimeter offshore.
This little brief appears to be nothing more than yet another of the many Times stories about pilots buzzing Los Angeles after the war, which seems to have occurred nearly every day. But in fact, it leads to heartache and death."
Not just the death of Beltz. Ten days after his fatal crash, "his fiancee, Phyllis Ann Pratt, 27, lay down on the bed of her home at 18257 Rosita St. in Tarzana, held Beltz's picture to heart and shot herself in the head. She wrote: "I tried but I have no courage to go on. I never was anything until I fell in love with him. He was a great man. I loved and respected him with all my being and soul. There are a million things locked in my heart that tell how wonderful he was…."
"She asked that she be cremated, "Just me, and the ring and the watch he gave me and his QB (Quiet Birdmen) pin." (2)
Sources: (1) Wikipedia/Portal:Aviation, (2) LA Daily Mirror, September 16, 2018