13 July 1968: The first production General Dynamics FB-111A supersonic strategic bomber successfully completed a 30-minute maiden flight at Carswell Air Force Base, Fort Worth, Texas. The FB-111A differed from the F-111A fighter bomber with the substitution of a larger wing, originally designed for the F-111B, giving the bomber a 7 foot (2.134 meter) increase in wingspan.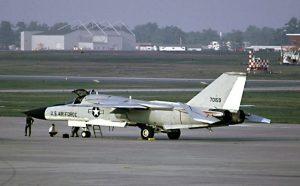 The landing gear was strengthened, the bomb bay enlarged, and it had more powerful engines.
The airplane's very long nose earned the nickname "Aardvark," but this did not become official until 1996.