26 June 1969 – Capt John Casper was serving with the 413th TFS out of Phan Rang AB, Vietnam. On a mission to detect VietCong structures his F-100D #553516 was hit by gunfire.
Casper ejected and was recovered.
Col John Casper flew 229 combat missions with the 35th Tactical Fighter Wing in the Vietnam War. Following his tour in Vietnam, Casper flew F-100 and F-4 aircraft while assigned to the 48th Tactical Fighter Wing, Royal Air Force Lakenheath, United Kingdom.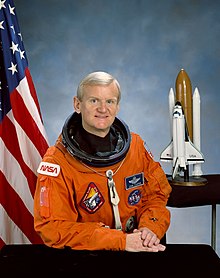 Colonel Casper logged over 10,000 flying hours in 52 different aircraft.  He was selected by NASA in May 1984 and became an astronaut in June 1985. A veteran of four space flights, he has logged over 825 hours in space.
Source: Wikipedia