12 May 1953 – On a captive-carry flight test over Lake Ontario, a Bell X-2 exploded killing test pilot Jean "Skip" Ziegler and engineer Frank Wolko. A technician, Robert F. Walters, who was in the aft section of the B-50 with Wolko, was badly burned and suffered an injured eye. The "X" dropped into Lake Ontario, between Trenton, Ontario, Canada, and Rochester, New York. Heavy fog over the lake hampered search efforts and the bodies of Ziegler and Wolko or the wreckage of the X-2 were never found.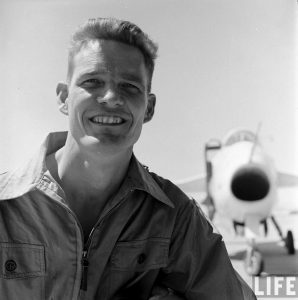 The mothership, an EB-50A piloted by William J. Leyshon and David Howe made an emergency landing and suffered major damage. It was never flown again.
Several other X-planes were lost until it was discovered that a rocket engine gasket made of Ulmer leather would decompose and become extremely flammable after prolonged exposure to liquid oxygen.
Jean 'Skip' Ziegler had served with the Air Transport Command during World War II and flew one of the ten transports that evacuated 10,000 persons from Burma in a single month.