13 May 1949 – The English Electric A.1 prototype, VN799 was a very high altitude light bomber powered by two turbojet engines. The "plate blue" aircraft had been completed on May 2 and had undergone some static and taxi tests.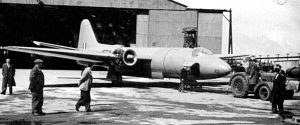 "Bee" Beamont flew the prototype for approximately one-half hour. Other than a problem in yaw, which would be corrected with minor modifications to the vertical fin and rudder over the next several test flights, the aircraft performed very well. Months earlier, the bomber had been ordered into production "off the drawing board."(1)
British bombers were typically named for cities and in January 1950 the bomber was named "Canberra" for Australia's capitol city.
The Canberra design would later morph into the English Electric Lightning. Stay tuned to the Super Sabre Society Homepage for a great story about some fighter pilots from the U.S., France, and Great Britain who found themselves with fast airplanes (F-100's and Lightnings) and little supervision.
(1) This Day in Aviation History by Bryan R. Swopes (Thank you, Bryan!)
Other source: Wikipedia