16 May 1958 – Capt Walter W. Irwin in F-104A #55-2969 flew out of Edwards AFB, CA determined to break a record. And he did. He broke the FAI ( Fédération Aéronautique Internationale) speed record at 2,259.538 kilometers per hour (1,404.012 miles per hour).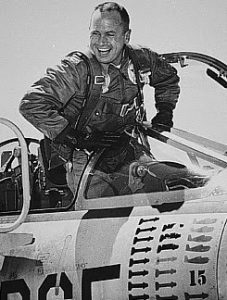 On the same day, Captain Irwin set two U.S. National Aeronautic Association time-to-altitude records by flying -969 to 3,000 meters in 41.8 seconds, and to 25,000 meters in 4 minutes, 26.03 seconds. It reached a peak altitude of 27,813 meters (91,246 feet).
Captain Irwin was part of a group of engineers and pilots awarded the Robert J. Collier Trophy by the National Aeronautic Association in 1958 for "the greatest achievement in aeronautics" because of their involvement in the Lockheed F-104 program.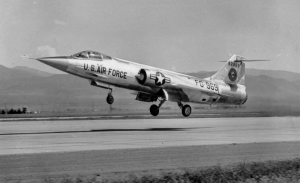 Walter Irwin joined the U.S. Army Air Forces in 1943. He flew 86 combat missions during World War II. (1)
(1) Today in Aviation by Bryan R. Swopes