23 November 1953 – USAF pilot 1st Lt. Felix Moncla and radar operator 2nd Lt. Robert L. Wilson took off in an F-89C Scorpion Serial No. 51-5853, assigned to the 433rd Fighter Interceptor Squadron, from Kinross Air Force Base, Kincheloe, Michigan investigating an unusual target on ground radar.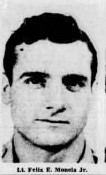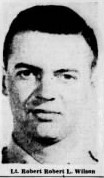 On the evening of November 23, 1953, Air Defense Command Ground Intercept radar operators at Sault Ste. Marie, Michigan identified an unusual target near the Soo Locks. An F-89C Scorpion jet from Kinross Air Force Base was scrambled to investigate the radar return; the Scorpion was piloted by First Lieutenant Moncla with Second Lieutenant Robert L. Wilson acting as the Scorpion's radar operator.[2][3]
Wilson had a difficult time tracking the object on the Scorpion's radar, so ground radar operators gave Moncla directions towards the object as he flew. Moncla eventually closed in on the object at about 8000 feet in altitude.
Ground Control tracked the Scorpion and the unidentified object as two "blips" on the radar screen. The two blips on the radar screen grew closer and closer until they seemed to merge. Assuming that Moncla had flown either under or over the target, Ground Control anticipated that moments later, the Scorpion and the object would again appear as two separate blips. Donald Keyhoe reported that there was a fear that the two objects had struck one another,[4] but the single blip continued on its previous course.
Attempts were made to contact Moncla via radio but without success. A search and rescue operation by both the USAF and the RCAF was quickly mounted but failed to find a trace of the plane or the pilots. Weather conditions were a factor in hampering the search.
Update 1968: It is possible that aircraft parts found near the eastern shore of Lake Superior in late October 1968 were from the missing F-89.[11] A U.S. Air Force officer confirmed the parts were from a military jet aircraft and news reports speculated these might be from the F-89 missing from Kinross AFB in 1953. The identity of the parts was never published and the Canadian government states they have no record of the find.
Source: Wikipedia