The Fokker 100 is a regional jet produced by Fokker in the Netherlands. The Fokker 100 is based on the Fokker F28 with a fuselage stretched by 18.8 ft (5.7 m) to seat up to 109 passengers, up from 85. It is powered by two newer Rolls-Royce Tay turbofans, and it has an updated glass cockpit and a wider wing and tail for increased maximum weights.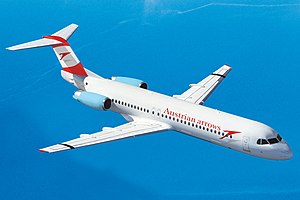 The program was announced in 1983 and it made its maiden flight on 30 November 1986. The variant was approved on 20 November 1987, and the first deliveries to Swissair started in February 1988. American Airlines ordered 75, TAM Transportes Aéreos Regionais asked for 50, and USAir got 40.
It is the basis of the shorter Fokker 70, which made its first flight in April 1993. Fokker had financial troubles and went bankrupt in March 1996, and production ended in 1997 after 283 deliveries.