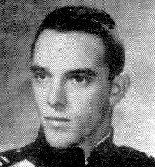 21 October 1967 – "At the Air Force Academy, Clarence J. Hemmel was known as "Boo Boo." He was well-liked and expected to have a fine Air Force career following his 1963 graduation.
After training on the F100 Super Sabre fighter/bomber, Hemmel was sent to Vietnam. There, on October 21, 1967, his plane was hit by enemy fire, crashed, and Hemmel was presumed to be dead. His last known location was due east of the city of Tam Ky near the coastline of South Vietnam.
Hemmel probably did not survive that day in October, so it was disappointment his family felt, not shock, when he did not miraculously return with 591 released American prisoners in 1973. But military officials were shocked that hundreds of Americans known or suspected to be prisoners were not released.
Since the war ended, thousands of reports have been received by the U.S. Government that relate to Americans still held captive in Southeast Asia. The Government maintains that it cannot verify any single report, but the official "assumption" is that at least some men are there. Experts maintain there are hundreds, but the U.S. has not found the formula to bring them home.
Clarence Hemmel may not have survived, but some of the men he flew with did. One can imagine that "Boo Boo" would gladly fly one more mission for them."