22 October 1955 – "At Edwards Air Force Base, in the high desert of southern California, Republic Aviation Corporation test pilot Russell M. ("Rusty") Roth took the first of two prototype YF-105A-1-REs, serial number 54-098, for its first flight.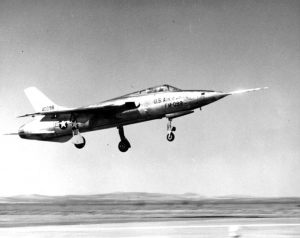 Though equipped with an under-powered Pratt & Whitney J57-P-25 interim engine, the new airplane was able to reach Mach 1.2 in level flight.
Aerodynamic improvements to the engine intakes and redesign of the fuselage to incorporate the drag-reducing "area rule," along with the more powerful J75-P-5 turbojet engine allowed the production model F-105B to reach Mach 2.15.
Though designed for air-to-ground attack missions, F-105s are officially credited with 27.5 victories in air combat.
833 Thunderchiefs were built by Republic between 1955 and 1964. 334 of those were lost to enemy action during the Vietnam War. The F-105 remained in service with the United States Air Force until 1980, and with a few Air National Guard units until 1983."