31 October 1964: Captain Theodore Cordy Freeman, United States Air Force, was a member of the NASA Astronaut Corps. He was one of fourteen pilots who had been selected for the third group of candidates in October 1963.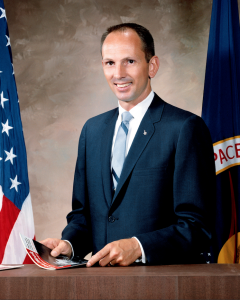 At 10:01 a.m., Saturday morning, Captain Freeman took off at 10:01 a.m. from Ellington Air Force Base, Houston, Texas. He was on the first of two planned training flights, flying a Northrop T-38A-50-NO Talon, 63-8188, Northrop serial number N.5535.  The weather was reported as scattered clouds at 2,000 feet (607 meters), with visibility 7 miles (11.3 kilometers) in haze. He returned to the airfield at 10:38 for touch and goes, but was instructed to exit traffic pattern because of arriving aircraft.
At 10:46, Freeman called Ellington Tower, reporting that he was 5 miles (8 kilometers) southwest, inbound. He received no response and 30 seconds later, reported that he was breaking out to the east. The tower acknowledged this transmission and instructed Freeman to make another approach. At 10:47, Freeman called, "Roger, be about two minutes." There were no further transmissions.
Ted Freeman's T-38 struck a Lesser Snow Goose (Chen caerulescens) in the vicinity of the airport. These birds weigh between 4½ to 6 pounds (2.1–2.7 kilograms). The impact resulted in damage to the left side of the airplane's forward canopy. Both engines flamed out.
Unable to reach runway at Ellington, Freeman turned away from the airfield to avoid buildings, lowered the landing gear and headed for an open field. At approximately 100 feet (30 meters), he fired his ejection seat. The altitude was too low to allow his parachute to open and Freeman was killed when he struck the ground.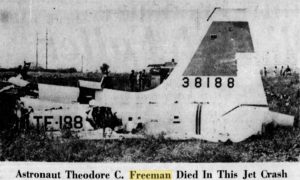 The T-38 crashed at 10:48 a.m., 1 mile (1.6 kilometers) south of Ellington Air Force Base, between Highway 3 and the Gulf Freeway.)
Investigators found blood and feathers in the cockpit. Suspecting a bird strike, a search was carried out and on 12 November, the remains of a snow goose along with fragments of the T-38's canopy were found approximately 3 miles (4.8 kilometers) southeast of Ellington AFB, and about 4 miles (6.4 kilometers) from the crash site.
Source: Excerpted from ThisDayinAviation by Bryan R. Swopes