6 September 1981 – A United States Air Force Northrop T-38A-75-NO Talon, 68-8182, '1', of the Thunderbirds display team crashed on take-off at Cleveland, Ohio, following a bird strike.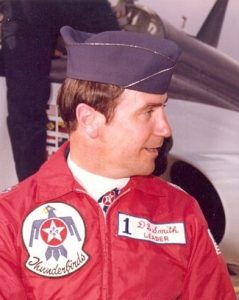 As an F-4 Phantom pilot in Vietnam, Smith flew 353 combat missions in Vietnam, including a historic one still taught today in the Air Force Weapons School. He led the first significant mission in which a laser-guided bomb was used successfully, blowing up the mile-plus long Paul Doumer Bridge.
In 1979, Smith became the Thunderbirds commander. After completing the standard two-year tour, he was asked to serve for an extra year, making him the only person still to serve as commander for three seasons.
Toward the end of that third season, he was taking off from Cleveland International Airport following an air show there when his plane hit a flock of seagulls, causing double engine failure. He and the crew chief ejected. The crew chief survived, but Smith's parachute failed to open.
Sources: af.mil and Wikipedia