8 September 1999 – "EDWARDS AIR FORCE BASE, Calif –The Helios prototype Unmanned Aerial Vehicle made its first flight. The unmanned flying wing spanned 247 feet and was designed ultimately to reach 100,000 feet and to fly missions lasting four days or more.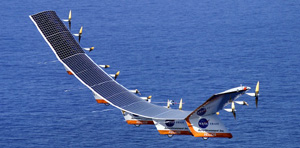 The first flight of the Helios was cut short when an emergency parachute accidentally deployed, forcing the aircraft into a slow turn until it could be landed remotely.
The Remotely Piloted Vehicle was developed by AeroVironment Inc. as part of the National Aeronautics Space Administration's Environmental Research Aircraft and Sensor Technology program.
The Environmental Research Aircraft and Sensor Technology program was a NASA program to develop cost-effective, slow-flying unmanned aerial vehicles that could perform long-duration science missions at altitudes above 60,000 feet. The project included a number of technology development programs conducted by the joint NASA-industry ERAST Alliance. The project was formally terminated in 2003."
Source: September 8, 1999: Helios Unmanned Vehicle Prototype Testing > Air Force Test Center > Article Display – Test History (af.mil)