"Flying Around the globe without stopping or refueling is impossible. Until it's not." – Dick Rutan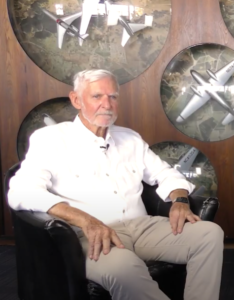 On June 17, 2021, the Southern California Aero Club honored Dick Rutan with the 42nd Howard Hughes Memorial Award.
A retired United States Air Force officer and fighter pilot, test pilot, and record-breaking aviator who in 1986 piloted the Voyager aircraft on the first non-stop, non-refueled around-the-world flight. President Ronald Reagan awarded Dick and Burt Rutan the Presidential Citizens Medal. He served the Air Force as a Tactical Air Command fighter pilot in Vietnam, where he flew 325 combat missions in the Vietnam War.
By the time he retired from the service in 1978, Dick had achieved the rank of Lieutenant Colonel and earned many prestigious accolades including the Silver Star, five Distinguished Flying Crosses, 16 Air Medals, and the Purple Heart. The Voyager mission was just one of many remarkable and record-breaking aviation accomplishments. Dick is a renowned public speaker and established the Dick Rutan Scholarship fund, which has gifted many thousands of dollars to young scholars. He remains highly active in the world of aviation and is a true legend.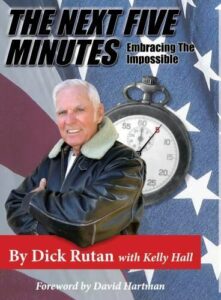 Dick has just released his new book, The Next Five Minutes which "highlights some of the exciting adventures of Dick Rutan including the extraordinary record-breaking flight of Voyager – the first aircraft to fly around the world without stopping or refueling." – Amazon
To see the 2021 HOWARD HUGHES MEMORIAL TROPHY PRESENTATION click here.
Source: 2021 Howard Hughes Memorial Trophy Presentation YouTube video by J. Bruce Camino