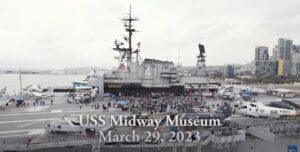 "March 29, 2023, marks the 50th anniversary of when the last U.S. troops left Vietnam and the final group of American prisoners of war (POWs) were freed and left Hanoi. On this day, Midway hosted a special flight deck commemoration ceremony that featured several guest speakers who described how their heroic, harrowing and heartbreaking experiences during the war changed their lives and the lives of their families forever."
The four speakers were:
Col Jim Collins, USMC (Ret) — He was wounded while completing reconnaissance missions, was evacuated to DaNang and made a full recovery.
Roy Knight — His father was an A-1E Skyraider pilot shot down over Laos. He was initially listed as MIA and later KIA.
Courtney Herrmann — She and her family escaped Saigon in April 1975 via Operation Frequent Wind. They were evacuated by helicopter bound for the USS Midway.
CMDR Everett Alvarez, USN (Ret) — He was shot down while part of a bombing mission during Operation Pierce Arrow over North Vietnam on August 4, 1964. He was captured and endured eight years and seven months as a POW.
Here is a video of the "50th Anniversary of the end of the Vietnam War" ceremony held on the USS Midway on 29 March 2023.
Click here to see the video. Keep your eyes peeled for our own SSS Member Dave Barnett. (Look for the F-100 patch! Hint, it's minute 6:17)