Are you an opera or performing arts fan? A new opera "Grounded" is scheduled to be performed at the Kennedy Center from October 28 – November 13, 2023.
"Fighter-pilot Jess grapples with her own battle: the moral implications and psychological effects of virtual warfare. This world premiere by Jeanine Tesori is based on the award-winning play by George Brant and co-produced with the Metropolitan Opera.
Mother. Soldier. What if both are at war?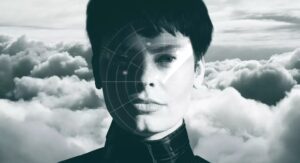 Adapted from George Brant's "thought-provoking" (Washington Post), "sharp-eyed" (Time Out New York), and "compelling and provocative" (San Francisco Chronicle) one-woman play, WNO presents the world premiere of Tony Award®–winning composer Jeanine Tesori's new work, Grounded.
Jess is an accomplished F-16 fighter pilot—until pregnancy grounds her to the "chair force" to target enemies via drones from a trailer in Las Vegas. This new arrangement seems ideal at first: by day, Jess uses her elite training to protect and serve America, and by night, she returns to her family. Ultimately, we see that protecting Jess from physical danger does little to shield her from the psychological trauma of war-by-proxy.
Mezzo-soprano Emily D'Angelo stars as a pilot and mother shaken into a downward spiral as the separation between career and home crumbles. In a first for opera stages, massive LED-screen technology will immerse audiences in the psychological and social implications of virtual warfare, suggesting that "distance" from war through technology is no distance at all." (1)
Commissioned by the Metropolitan Opera. Developed by the Metropolitan Opera/Lincoln Center Theater New Works Program.
For more information go to: https://www.kennedy-center.org/wno/home/2023-2024/grounded/
Source: (1) and photos: https://www.kennedy-center.org/wno/home/2023-2024/grounded/