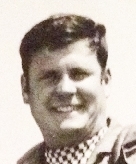 LT. COL. ALEXANDER MCDERMONT, 78, U.S. Air Force, Retired, passed away December 2, 2017, with his loving family and spiritual advisor by his side. Alex was born April 22, 1939, in Hollywood, California. He was raised in Atherton, northern California. After graduating from Oregon State University in 1961 with a degree in Veterinary Science and Animal Husbandry, he immediately accepted an appointment as an officer and pilot candidate in the U.S. Air Force. Alex, known as "Deadly" in the U.S. Air Force, served honorably for 20 years as a Tactical Fighter Pilot, Fighter Weapons Instructor and Test and Evaluation Pilot. His Air Force career was highlighted by three tours of combat in Vietnam. Deadly was a passionate aviator. Some of the most memorable airplanes he flew in the Air Force include the F-100, A-7 and the A-10. Alex and his family settled in Las Vegas during his final assignment at Nellis Air Force Base, where he retired flying the A-10 as a Lieutenant Colonel.
In Las Vegas, Alex was a small business entrepreneur before he retired again as a gentleman cattle rancher outside of Bozeman, Montana. After enough ornery cattle and Montana winters, Alex returned to Las Vegas in order to be closer to sunshine, and to his son and daughter-in-law.
"Deadly" was a warrior and enthusiastic fighter pilot. Alex was an inspirational father and his friends remember him as funny, energizing, passionate and artistic. Service, will military honors, will be at 12:40 p.m. Tuesday, January 16, at Southern Nevada Veterans Memorial Cemetery, 1900 Veterans Memorial Drive, Boulder City. There will be a celebration of his life following the service, at his son's home. In lieu of flowers, please make contributions in honor of the McDermont family to "Keep Memory Alive" at Lou Ruvo Center for Brain Health.
Alex is survived by his son, Marc; daughter-in-law, Shea; and granddog, Vegas.
(source: Las Vegas Review Journal/Legacy.com) Https://obits.reviewjournal.com/obituaries/lvrj/obituary.aspx?page=lifestory&pid=187773171