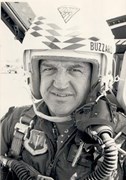 James A. (Jim) Bustle, Lt. Col. (USAF Ret.), 86, of Alexandria, LA,  Headed West November 21, 2017.
Jim proudly served our country in the United States Air Force during the Vietnam War as an F-100 fighter pilot and later with the 23rd TAC Fighter Wing as an A-7D Instructor Pilot at England AFB, LA.   He was a member of the Super Sabre Society, The Order of the Daedalians and Masonic Lodge #136, AF& AM, Burkeville, Texas.
Jim was also a member of Calvary Baptist Church, where he served as a deacon and choir member. He was a loving husband, father, grandfather, brother and friend who was dearly loved and will be deeply missed by those that knew and loved him.
Jim is preceded in death by his son, Bradford Bustle, and sister, Lois Hansee.
Those left to cherish his memory are his wife of 63 years, Phyllis Prater Bustle; daughters, Lisa Tauzin and husband, Russell of Lake Charles and Beverly Patterson of Niceville, Florida; grandchildren, Bradley Patterson, Lyndsie Coon, Chelsea Tauzin, Eve Reeves, Sidney Tauzin and Ian Tauzin and a host of other family members and friends.