I have sad news to report.  Bill passed away on 1/30 and the interment will be held in Arlington National National Cemetery on April 27th, 2020 @ 11:00.   Please pass along information to other Super Sabre members as some may have known Bill.  
Shirley Rippy [his beloved wife of 62 1/2 yrs]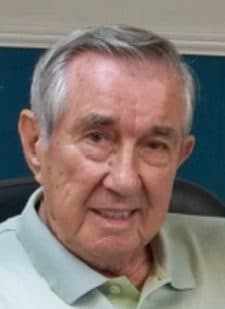 Colonel Bill G. Rippy, 89, of Tifton, headed January 30, 2020.  interment will be held in Arlington National Cemetery on April 27th at 11:00.
Bill had a full bio with photo's on this website.
His grandsons; Billy Rippy III, Brock Alexander, Richard Rippy, Michael Rippy, Matthew Rippy, and Garrett Rippy will serve as pallbearers.
Bill was born on October 2, 1930, in Bethpage, TN to the late Basil Rippy and Earlene Cline Stone.  Along with his parents, he was preceded in death by his brother, Robert Rippy.  He is survived by his wife of 62 years, Shirley Ann Wheeler Rippy of Tifton and his sister, Sue Mitchell of Plymouth, Indiana.  Also surviving are his daughter and son-in-law, Karen and Alan Alexander of Blairsville, GA and two sons and daughters-in-law, Bill, Jr. and Barbara Rippy of Ft. Myers, FL; and Bob and Natalie Rippy of Tifton, GA.
Bill graduated from LaPorte High School in 1948, where he played football and was inducted into the LaPorte High School Football Hall of Fame in 1988.  He continued his education at Wabash College where he played football for three years before enlisting in the Air Force.  He went on to have a career as an Air Force fighter pilot. Colonel Rippy was a veteran of the Korean Conflict and Vietnam War.  During his military career, he flew multiple fighter aircraft, including 267 combat missions in Vietnam.  He was the first pilot to land an F-84F deadstick successfully; in fact, he did it twice and was awarded Pilot of the Month for the entire Air Force for his accomplishment.  He was also one of the test pilots for the F-101 Voodoo and was the first pilot to break the sound barrier on the deck in that particular aircraft.
Bill and his wife were very active in their church Victory Baptist and formerly Northside Baptist.  He served as Deacon for Victory Baptist Church and previously Northside Baptist Church in Tifton.  He was involved in Vacation Bible School and very active in visitation.
Bill transitioned from a leader to a servant in 1992, when he became a hospice volunteer with Hospice of Tift Area.  He served in that capacity for 25 years.  In addition to Hospice, he began visiting people he knew that were in the nursing homes and those visits became part of his weekly schedule. For some, he was the only visitor they received each week and they looked so forward to the time together.