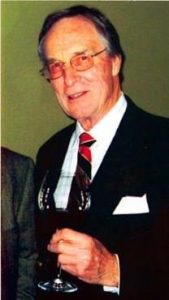 SSS Member Carl Patrick Laughlin, MD, a physician for more than 50 years in Newport News and a member of the medical team for the original Mercury 7 astronauts at Langley Air Force Base, died November 14, 2016, at his home in Williamsburg from pancreatic cancer. He was 85. He was born September 28, 1931, in rural West Virginia, the son of Carl Adam Laughlin and Frances Ann (Knee) Laughlin. He graduated from West Virginia University where he was a member of "Mountain," the service honorary. He then attended the University of Maryland Medical School where he graduated Magna Cum Laude and was inducted into the medical honor society, A.O.A. He went on to train in Internal Medicine at Case Western University and served in the Air Force as a Flight Surgeon. He flew in F-100s conducting Air Force Fighter tests at Wright Patterson AB from 1957-59.
While training at Case Western, Dr. Laughlin was given the opportunity to work with NASA in the developmental stages of the space agency. He was assigned to the medical team for the original Mercury 7 astronauts at Langley Air Force Base. Dr. Laughlin was the lead medical officer for John Glenn's orbital flight, after which he wrote the paper "Physiological Responses of the Astronaut". An interview with Dr. Laughlin about his time with NASA is available on YouTube (Dr. Patrick Laughlin, Mercury 7 Astronaut Physician).
Retiring only six months before his death, he celebrated with 100 patients who signed his white clinic coat on his retirement day.
Dr. Laughlin was committed to issues of social justice and environmental conservation. In the 1970's he was quick to join with others in the opposition to an oil refinery proposed for Hampton Roads Harbor. Development of this refinery would have had devastating effects on the Chesapeake Bay and lower James River. Also in the 1970's Dr. Laughlin became aware of the poisoning of the James, linked to the pesticide Kepone, which was being released into the James River from a plant in Hopewell, VA. Along with other concerned citizens, he worked to protect and preserve the fragile James River.
Dr. Laughlin was, above all, a proud father and grandfather. In addition to his wife, Karen Kellog Laughlin, he is survived by his sons, Daniel (Kelly) of Severna Park, MD and Peter (Betsy) of Sarasota, FL; step-daughter Kimberly (Doug) Towne of Bon Air, VA, and step-son Kameron (Katie) Turner of Middleburg, VA,; and nine grandchildren. He is also survived by his brothers Joseph (Lois) of Santa Barbara, CA; David (Janet) of Williamsburg, VA, and Mark (Bernadette) of Columbus, OH.